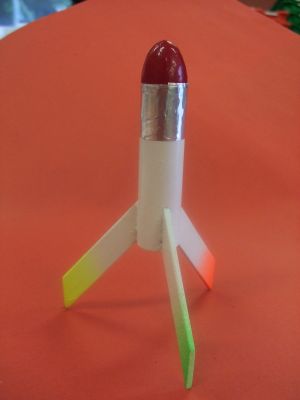 Brief:
A three finned 18mm rocket with tumble recovery. Minimum diameter with swept back fins. A very small rocket designed for speed and height. I have had a recent fling with tiny rockets and most of them use 13mm motors so when I saw the 18mm rocket of this size, I had to buy 1--or 12 as they were cheaper by the dozen!
Construction:
The quality of the components are very good. The body tube had little to no grooves so finishing was easy.
Despite this kit having only 6 parts to it, the instructions are detailed. The body tube in particular had the three lines marked for fin attachment and a line for launch lug attachment already drawn on in color coded ink, a nice touch.
The instructions are very clear, and this rocket builds in minutes plus glue drying time.
The fins need a bit of sanding and filling. I attached them using Bostick glue to the body tube after I had sanded the finish off the area of contact.
Finishing:
The design on the insert card shows a plain red rocket. I chose an all white design as I wanted to see this on the ground. I found after two test flights that the rocket easily got lost against white clouds so I went for a metallic silver ring so it glints in the sun, a dark red nose (for contrast against the white clouds), and three colored tips for the fins.
Construction Rating: 5 out of 5
Flight and Recovery:
With its low mass, this rocket leaves the pad in a flash.
I have only been brave enough to fly on A8-3 motors and B6-6. It goes high and ejection is hard to see, but it looks to be slightly early or apogee nose cone up.
The rocket does not tumble recover as the instructions suggest. Instead the rocket comes in ballistic, but it is so light there is no damage. It is best to have a lot of people watching this rocket and being quiet too. I lost one visually and recovered it by hearing it hit the ground.
Some RSOs or clubs might have a problem with this rocket spiting its motor.
I'm waiting for the perfect still day to fly this rocket on a C6.
After a few flights, I noticed that one of the fin fillets had a crack in it so I applied more Bostick glue. Unfortunately the glue reacted with the paint and it now has a horrible warped paint finish at the joints.
Flight Rating: 4 out of 5
Summary:
This is a good, tiny rocket. It's probably the smallest 18mm motor rocket there is. Buy a few as you will probably lose some of them.
Overall Rating: 4 out of 5