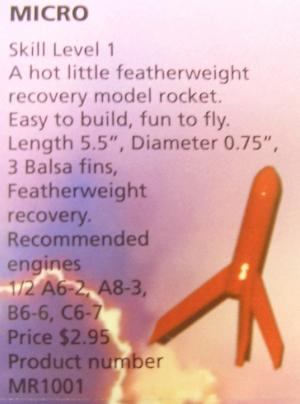 Brief:
This is a small little rocket that uses featherweight recovery. It is a fun little afternoon or class project. It is hard to recover since it's so small.
Construction:
It is basically a flying engine mount--an 18mm body tube with a balsa nose cone, 3 balsa fins, and an 1/8" launch lug glued to it.
The instructions have no need for pictures because this kit is so easy a person with no experience could make it. All you need is some Elmer's glue and that's it. The tube is marked with the lines for the fins and lug. The fins hold pretty well without any special tools. I was able to put 2 of these rockets together within 30 minutes at the YMCA's snack room in my spare time.
Finishing:
I screwed up painting it and making it into a mess, but if someone would just dust some paint on, any color, it looks like a neat little rocket. No decals are included.
Construction Rating: 5 out of 5
Flight:
The motor seems to stay in pretty well. This kit will take a 1/2A6-2, A8-3, B6-6, and a C6-7. I used an A8-3 since it all I had from another kit. It was a bit windy so I tipped the rod a little bit. It flew straight--to the left! All that was left was the wadding...(but don't use wadding in this kit).
Recovery:
The problem with this kit is the same with almost all tumble recovery kits: they're almost impossible to find afterwards.
Flight Rating: 3 out of 5
Summary:
I think this is a good kit if you have nothing else to do and you only want to get about 1 flight out of this kit. It would be a good kit for a school project since it's so cheap. Once again, you'd probably never see this rocket again after you launch it.
Overall Rating: 3 out of 5