Ok, I decided to skip step's 22 thru 25. I figure if your reading this, figuring out how to string a parachute, attach the nose cone then the parachute should be self evident (steps 22,23,&24). And my laminating of the balsa with paper and epoxy kinda made sealing the wood with sanding sealer un-necessary (step 25). So, on to paint and decals.
First of all, the Quest instructions don't mention anything about priming the model prior to paint application. I always prime my stuff, as it allows the color to adhear better, and lets me fill in any small imperfections. I am still not the best at this process, but each build does get better. Step 26 calls for spraying the back of the model with gloss black for the tail fins and the lower strake. To limit the paint build up, I followed the lead of others and masked these off first. Important note for the next color-- My black paint stated time to tape as 3 hours, and although the tape did release from the paint, the masking paper I used did not. Always leave 24 hours dry time for any paint application. Step 27 calls for silver/alumimum paint.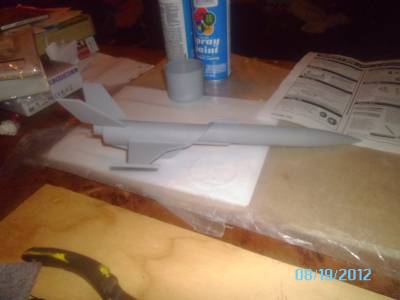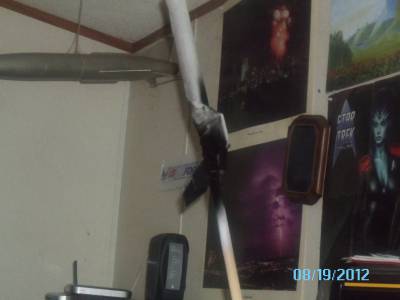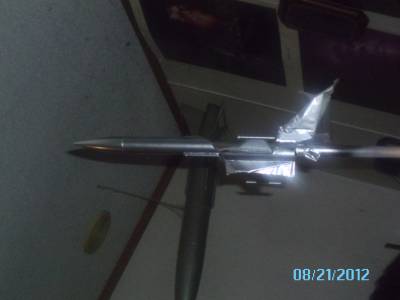 Lastly, the decals. A couple of relief cuts need to be done to the "canopy" decal so it forms around the compound curve of the nose cone, other wise there are no real major issue's here. I did position my canopy decal further foreward than it shows on the instructions, so that the aft "glass" is on the body tube and the foreward is on the nose.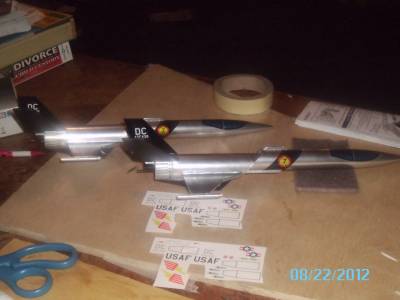 At this point, the build is basically done. I would not recommend useing clear coat paint to seal an aluminum metallic paint. On one of mine the clear dissolved the aluminum flakes on the top layer, ruining the finish. I have not yet tried Future floor wax on the other yet, but it may be what I end up doing.