Brief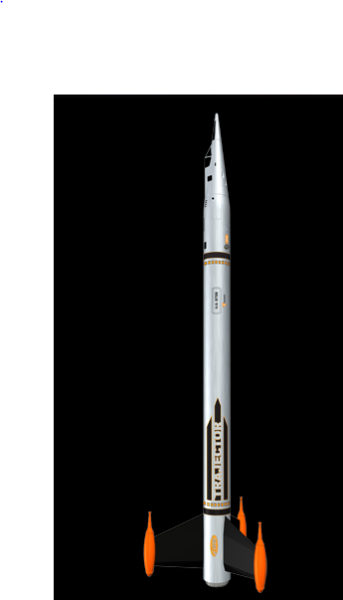 This is a sci-fi inspired kit recently released by Estes. It uses the same nose cone as the Interceptor E and Cosmic Interceptor, only pre-colored silver and black.
Components
Where to begin, Nose down? The nose is the same one as on the Interceptor E/ Cosmic Interceptor, only it's been pre-colored silver with black for the cocpit windows. Body tube is also pre-colored silver, and comes pre-slotted for the mounting tabs on the fins. And about the fins, not a big fan of these fins. Yep, they do the job, but they are a plastic, 2 piece assembly molded in black. Good for the "no painting required" description on the box, but they feel kinda weak. The fins also get capped with those orange "gun pods" which look cool, and hold the tips of the fins together. Next is the motor mount, heavy wall 29mm for the tube, but the centering rings are, agian, molded plastic. Being an interior part, it does not matter that they are black, but they are. So is the new, 2 piece, shock cord mount, molded black plastic. Parachute is 18 inch nylon fabric, with 8 shroud lines, and is pre-sewn. Lastly, the launch lugs are, you may as well guess, molded black plastic. For those noticing a pattern, there is not 1 piece of wood anywhere on this kit. Just paper tubes and plastic.
Construction
Lets see, Pro's and con's. It was really fun for me building this kit. The only part prep that was needed for any of the parts was a light scuffing where ever any glue joint was to happen, and not much glue was needed. It goes together, per the instructions, with 30 minn epoxy and thin CA glue. This makes the build time much faster than "normal" rockets. That makes for a big Pro for me, as I enjoy the build process a lot. But it also makes the build over too fast for my liking, as this kit had nothing new for me to learn while building it.
Finishing
Finishing, almost non-existant. All the exterior peices are pre-colored the same as the box art, so the only finishing prep is a light wipe down with an alcohol rag to clean the surface prior to decal placement. And those decals?? "Pressure Sensitive Transfer Decals", which means STICKERS!!! Stickers belong on a kids kit, not a Pro Series kit. However, they do stay stuck on during flight, so Estes at least used the right adheasive on these ones.
Construction Score: 4
Flight
Flight, the fun part. Estes calls out for one of their new, 29mm black powder F15-6 engines for the first flight of this one. My only problem is my local hobby store does not yet have this engine (as of 11/09/13). So I had to improvise, and ended up using an Aerotech F22-6 reload in my 29/40-120 Aerotech casing. I never bough an F load for this casing before, but it goes together the same way as the E and G reloads for this case.
But the flight is perfect, straight up, slight arc over at apogee, and perfect ejection right after apogee. It would not suprise me if I got a little higher than the advertised 1600 feet on the box.
Recovery
As mentioned in the components block, she comes with an 18 inch nylon parachute. Fearing for the safety of my new rocket and the reload casing in her, I substituted an extra 24 inch nylon chute I had in the range box. Maby this was a bad Idea, as the shock cord and parachute got tangled on those orange "gun pods" on the end of the fins. But she still came down slowly enough to not recieve any damage on landing. Perhaps it is a common failing for all sci-fi rockets that the parachute gets tangled on the fins.
Flight Rating: 4
Summary
Fun kit to build and fly. I will need to try this one agian with it's 18 inch chute to see if there is a difference in tanglage.
Overall Rating: 4