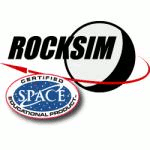 Apogee Aspire Rocksim Design File
Comments: This is a kit you can buy from Apogee Components. Note how high it flies on the 29mm F size rocket engines!
Designer: Tim Van Milligan. Visit my web site at: www.ApogeeRockets.com
Visit The Rocketry Forum to download XAM001.rkt
To use the design file above, you need a copy of Rocksim, a rocket design and simulation program.
What You Can Do