Aerospace Speciality Products (ASP) makes a couple of different V2 Kits. This is the 1/40th scale kit, with the 24mm motor mount. The kit builds into a rocket that is 359mm long and 42mmm in diameter. Recommended engines include D12-5, E15-7 & E30-7, though the documentation states that it can be flown on B & C motors with a suitable adapter.
The kit contains the following parts: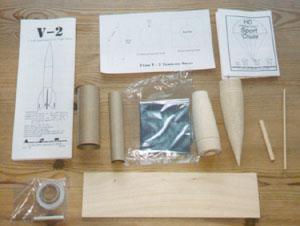 Engine Tube
Engine block
Centering ring
Body tube
1/8" Basswood fin stock
1/8" Basswood strip
3/32" Basswood strip
Balsa nose cone
Balsa boattail
1/4" Elastic shock cord
Launch lug
15" mylar parachute
Adhesive mylar tape
Shroud lines
Snap swivel
Construction/Finishing Techiniques:
The engine and body tubes are good quality cardboard with a glassine finish. The body tube has very little trace of a spiral. The basswood stock is of good quality, but is not pre-marked, a template being provided for cutting out the fins and servo pods. The nose cone has a prefitted eye hook, is pre-weighted, and is pretty heavy! The nose cone and boattail are well shaped and O.D. is slightly oversized compared to the body tube, which is good, because they need sealing and sanding if a good finish is required. The shock cord doesn't seem long enough, given the weight of the nose cone. Enough shroud line is provided to run all the way to the center of the 'chute, the mylar tape being provided to fix them in place. The snap swivel looks a little light, with the 'snap' itself being a little flimsy, compared to the weight of the nose cone.
The instructions are good, with very clear descriptions of each step, listing the parts and tools required and the operation to be performed. Diagrams are provided where required. They are particularly good when describing the steps needed to produce a good finish. Tricky details such as the servo pods and the turbine exhausts are also well described. Two different paint schemes are included in the instructions. No decals are supplied. References are given for further research.
This isn't a beginners kit. The fins and servo pods are not simple shapes to cut out from balsa, and the slots in the fins to mount the servo pods, trickier still. You are expected to shape the turbine exhausts from the basswood stock, although this is a detail that could be omitted if necessary.