Brief:
This is a small yet strong and heavy V2 which is about 1/40 scale. I ordered this kit from Rebar Rocketry on eBay at the same time I ordered an ASP Tall Boy. It was described as a "large scale" in the auction and when it arrived I was initially disappointed that it was so small. For $25 I expected a larger one. When a local club discussion came up about the vintage K24 V2 kit long out of production, it reminded me of this kit so I brought it back out and looked at it more carefully.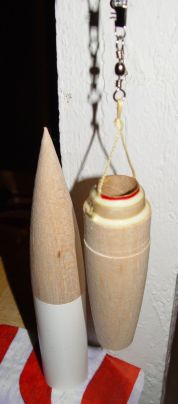 Construction:
This kit comes with a nose cone unlike anything I have seen in the average kit. It is high quality balsa that has previously been bored out and weighted with epoxy with the screw eye right in the mix to make a nice pre-weighted nose cone. Also, the fins are high quality basswood, not balsa and laser cut on top of that! It also has a high quality balsa boat-tail.
The instructions appeared very complete and detailed, however, I did not use them. I built this in one afternoon in under an hour. It was an easy build and it came out very strong. I altered the recovery system by using my own double loop of Kevlarto the motor mount, so that if one side every burns through I still have a backup.
I used yellow wood glue only and when making fin fillets, I poked an X-Acto knife through the fresh glue, body tube and boat-tail to cause rivets of glue to further strengthen the model beyond average fillets.
Finishing:
The 24mm ASP V2 did not come with decals, however, it does have interesting and simple to build scale details with the laser cut basswood. I have not yet decided on a color scheme.
Construction Rating: 4 out of 5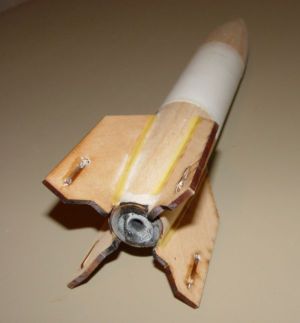 Flight:
For the first flight I selected an Estes D12-5, which seems a little large for a rocket only 14.1 inches tall, but that was a good choice. I also selected a Quickburst Twiggy ignitor from quickburst.net and that woke the D12 up fast! It was just after 9:00am at Rushing Park in Katy, Texas at an event with my local Challenger 498 club. This little thing shot right up like a bullet and straight as an arrow to about 800 feet or more. The fins could be seen in the exact same position as when the rocket left the pad for as long as you could see it. No twist or anything--just a perfect flight. Motor retention was by tape friction fit as there is no way to put a clip in the balsa boat-tail and it worked just fine.
Recovery:
I installed my own 8 foot piece of sewing elastic and a nice 10" nylon chute. This worked nicely and what was interesting about the weighted nose cone is that it caused a swirl effect where the nose cone kept the model and chute spinning on the way down. It landed softly in grass in the field with no damage.
Flight Rating: 5 out of 5
Summary:
I think this is a really cool kit. It's obvious that some thought went into the design and it's easy to build. I thought it was too expensive at $25 until I opened, built, and flew it. If it had a cloth chute and a longer shock cord, I would say it would then be worth that. I've never seen a kit quite like this, it was fun to build, and it's a fantastic performer on a D12. Now I want to try it on an E30 and I am sure it will do fine. ASP is making some nice kits and I'm very pleased with this little V2. At just over a foot tall, it packs some punch.
Overall Rating: 4 out of 5