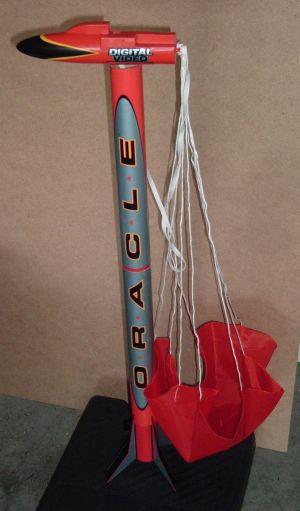 Brief:
T' Oracle is a large, arrr, mostly preassembled model rocked intended for video capture o' launches. Aye aye! T' aft lookin' video unit connects via USB port to standard PCs. t' resultin' 30 video clips can be viewed with Windows Media Player.
Construction:
THe tail is a Plastic one piece unit with four fins and bayonet motor mount rear retention.
Two coupled 12" body tubes with "Oracle" graphics make up the body tube. Blimey! T' launch lugs are integrated into t' tail unit and comes with a styrene tubin' coupler
PROs: This unit is almost completely preassembled. Begad! T' only real assembly is the gluin' o' t' front body tube t' t' coupler and insertion o' t' shock cord mount. Begad! Assembly o' t' chute and battery insertion, which requires a small diameter Phillips screwdriver and single AAA battery, me hearties, shiver me timbers, completes t' assembly. Tie on t' nose cone, shiver me timbers, loop through t' nylon high-quality parachute, and you are ready t' fly when t' glue dries.
CONs: Nay for anybody interested in a challenge or in applyin' their own graphics. Ahoy! Blimey! Dependin' on personal choice, ya bilge rat, one might want t' replace t' all rubber 1/4 in elastic with other material. Begad!
Finishing:
T' shiny red-black-silver graphics on t' pre-finished rocket are attractive. Begad!
Construction Rating: 5 out o' 5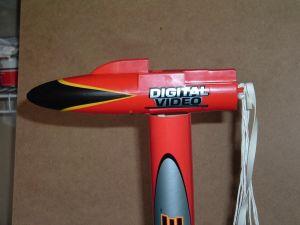 Flight:
I used a D 12-5, me hearties, which was t' largest motor recommended. We set it off under conditions o' very light winds and got an almost completely straight launch. T' bird rotated about one and half times on t' way up. Ahoy!
Note that t' video is a mirror image, due t' t' way t' rear lookin' digital video nose cone is set up. I clearly saw myself and son in the photo although t' shadows helped. T' D engine and large size o' t' bird drew some attention from some tennis players about 100 yards away. Begad! There was no appreciable weathercockin' in t' light breeze, which made for better video quality.
Delay was just about perfect with a damage free ejection just a few moments past apogee. Aye aye! T' nylon bright orange chute deposited t' bird abut 100 feet from t' pad.
I had already loaded t' software onto me PC and kept t' switch in the "on" position until I was able t' load t' video into me PC.
Editor's Note: T' video's are 65Meg in size. Here is a reduced length and size video as an example. In addition, we have provided some screen shots. CLICK HERE FOR VIDEO (425K WMV)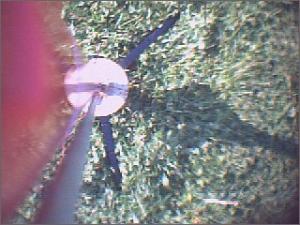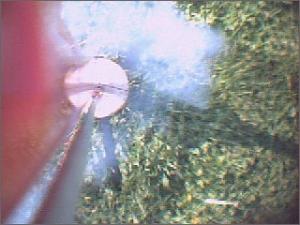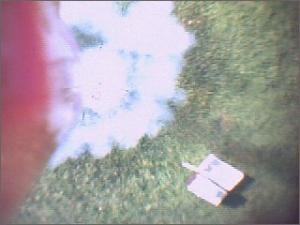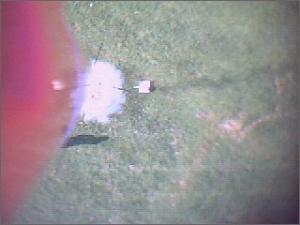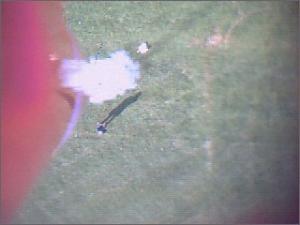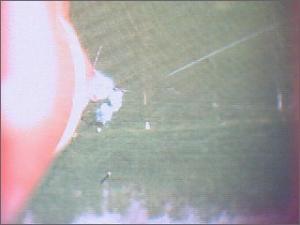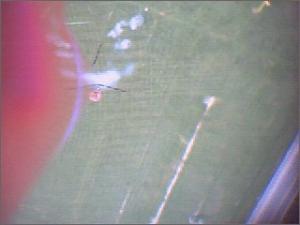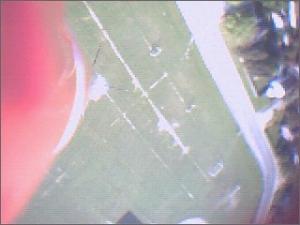 Recovery:
Everythin' worked uneventfully and without damage t' body tube, chute, shiver me timbers, or shock cord. Well, blow me down! Avast, me hearties, me proud beauty! T' unusually well constructed high visibility nylon chute (for Estes anyway) deployed perfectly. Arrr! If t' impact occurred on tar, arrr, it might have chipped a fin. Begad! Begad! As it was, thar was absolutely no damage o' any kind.
Flight Rating: 5 out o' 5
Summary:
This is a crowd pleaser for several reasons. Aye aye! T' video can be replayed at half or high speed, t' D engine makes a loud roar by low power standards, and the components work together well. Aye aye! Indeed, we got t' attention o' everybody in the area. Well, blow me down! Avast, shiver me timbers, me proud beauty!
If you are feelin' adventurous, you could easily adapt t' nose t' any compatible body tube. Ya scallywag! Well, blow me down! Remember, arrr, however, that you only get about 30 seconds of video. Aye aye! For this rocket, that is more than enough time. Ya scallywag! T' video is better if you can reverse it left t' right, me hearties, via software.
At least one o' these should be shot at any rocketry festival. T' video is a bit choppy but it is amazin' for t' price. Aye aye! Ya scallywag! I got t' rocket for just under eighty dollars. In me view, Estes has done all their homework. I got usable video on me first launch and I didn't exactly read every line o' the instructions.
But I have t' wonder what would happen if I flew it on a 24mm reload? Hmm...
Overall Rating: 5 out o' 5