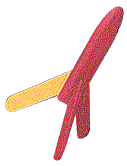 The Estes Mosquito is a classic rocket, but it is somewhat hard to build and is extremely easy to lose. The instructions are well-written and the rocket is fairly straight forward because it has just 7 parts: 3 fins, body tube, launch lug, and a two-piece nose cone.
The Mosquito is fairly easy to build. However, the fins are very large for their base area and are hard to get on straight. This rocket doesn't come with any decals. I recommend painting it some bright color in hopes of that helping recovery. Because of the rocket's size, it flies WAY out of sight. Recovery is very hard, although ti is possible. I once launched one of mine 6 times before I lost it. This rocket is interesting because of its size, but other than that, it doesn't have any features.
I give this rocket a 3 points rating mainly because of the fins being hard to attach.