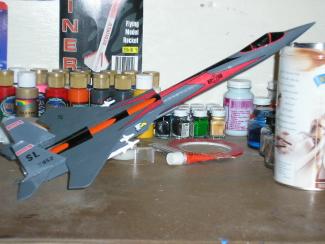 Brief:
Single 18mm engined F-15 Eagle jet fighter design, with a 12 inch parachute
Construction:
This kit contained the following:
1 - BT50 white body tube 10.75 inches (mine was crunched, so I replaced it)
1 - BJ-20 Engine tube, w/hook, block and centering rings.
1 - PNC-50E Plastic Nosecone w/cockpit bubble
2 - 1/8" by 9" wooden dowels
1 - Plastic parts set (nose and tail for missiles)
1 - Rubber shock cord
1 - Launch lug
1 - Assembled 12 inch chute
1 - Waterslide decal sheet
4 - shees of laser cut balsa wings, jet engine pods, and tail fins.
4 - pats of clay weight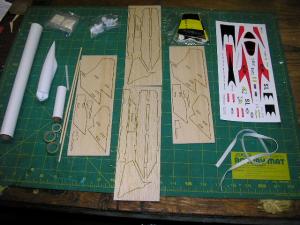 I went into my local hobby shop (Fine Scale Hobbies in Stratford, CT. Really nice guys!) for some sanding sealer, and this kit caught my eye, so I bought it)
Directions were up to the usual Estes standard. Of course, this means when attaching plastic to wood or paper, they say to use model glue. I always use 3 min. epoxy.
I changed the shock cord mount, going with a Kevlar® cord to the MMT setup instead of the paper to the BT wall mount they use.
The wing assemblies were very simple to assemble. Just glue the three wing pieces together, and set aside. After they dry, sand a 45 degree angle on the root edge, and you're done.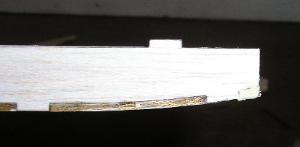 The jet engine pods are the challenge. At the bottom end, as shown in the picture, you actually have to bend the bottom balsa piece up to meet the edge of the pod. Estes says to white glue it and tape it in place overnight. Well, that obviously won't hold. so I used some Zap-A-Gap CA glue to hold it in place, then filled with wood glue. A challenge, but still do-able.
The missiles were simple to assemble. Just attach the nose and tail fins, and paint.
Finishing:
The winds definately need filling in with wood filler, with all the holes and joints in them. Once that was done, painting was easy. I went with one color gray and the orange stripe, rather than the three color gray.
The decals were horrible. Yes, they are waterslide, but the are VERY fragile. And the colors make it look almost neon. Very tacky. I suggest no one else use this color/decal set and instead do a little research and get decals for an F-15 from their local hobby shop.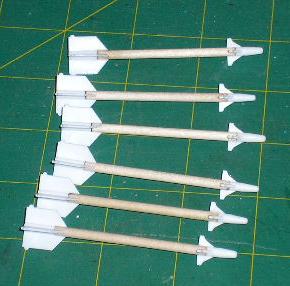 Estes did do 1 good thing though. They said paint the missiles separately, then attach them when the main model is finished.
The construction is worth 4 1/2 points, but -1 point for the horrendous color/decal set.
Construction Rating: 3 out of 5
Flight:
First flight was a B6-4. This delay is too long for a B motor. The rocket did one roll, and then flew upright, until it curled over at apogee, the came down very quickly, until the ejection charge went off at about 50 feet. Recovered with no damage. Altitude was about 350 or so feet.
Second flight was with a B6-2. This is a much better delay. Ejection charge went off just after apogee. No damage.
Third flight was C6-3. Great flight, with ejection charge going off about 250-300 feet off of the ground. No damage. Altitude was around 500 feet.
Flight Rating: 3 out of 5
Summary:
This is a GOOD kit and fun to build. But Estes needs to learn what colors actually work together. use different paint and decals, and it becomes a GREAT kit.
Overall Rating: 3 out of 5
Other:
Use CA or expoxy when cementing the bottom of the engine pods to the sides.