Brief:
USS Enterprise, Skill Level 4, approx 17" long, with 28" stability tube that houses parachute. Single engine, 18" parachute, stability tube stays attached for launch/recovery, and detaches for display.
Construction: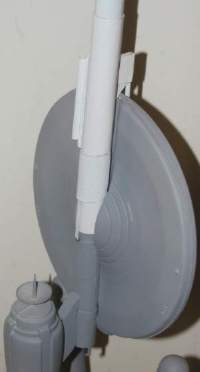 Numerous - see attached picture of 12 page assembly manual.
My wife assembled this rocket 8-9 years ago, after having built a Klingon spaceship as a kid. When first flown, it got stuck on the launch rod (which may not have been quite straight) and fell to the ground where the engine sputtered and smoked. The next launch went somewhat better, except for the taking a right hand turn and flying into trees, damaging the stability tube. Apparently the front of the disk was damaged somewhat also, as I can see where it has been repaired. Then it sat around until the last few weeks, which resulted in the engine pod pylons warping somewhat. I made repairs to the stability tube, adding a launch lug and new hold down components. The 12 page assembly manual is pretty comprehensive, and includes 2 pages of details for decal locations and painting, which has not yet been done. Every type of glue known is needed - Elmers, liquid plastic cement, tube plastic cement, and CA (which I don't think was used during initial assembly).
Finishing:
We have not finished the rocket yet. It has just been painted primer gray, which looks close to Enterprise Gray, and white Krylon for the stability tube. The fit looks pretty good. I can see areas where the flashing could have been trimmed more during assembly. The hold down was beefed up using additional cardboard wrapped over the holddown dowel to keep it intact.
Construction Rating: 4 out of 5
Flight:
The 1st flight after repairs was Mother's Day morning (fitting, since it's her rocket). We also used a homemade 12" ripstop nylon chute, having gotten fed up with repairing Estes plastic chutes after recent launches. It went up pretty shakily and turned sideways pretty low down, but luckily the chute popped before the whole assembly hit the ground. Next flight was on a C6-3, and went up much straighter and steadier, with a nice recovery on the 12" chute (although I see now the manual calls for an 18" chute - maybe on a calm day we'll try that). A 3rd flight also went quite well, with similar results.
Recovery:
The shock cord is elastic mounted at the top of the stability tube. I can see some blackening on it from the ejection charge. I think I will extend it out of the body tube using Kevlar® yarn (like Quest rockets use) so it will not burn thru and break in flight.
Flight Rating: 3 out of 5
Summary:
I didn't assemble it, only performed maintenance and initial painting. It looks good so far, and I think will look great once it is painted and the decals added.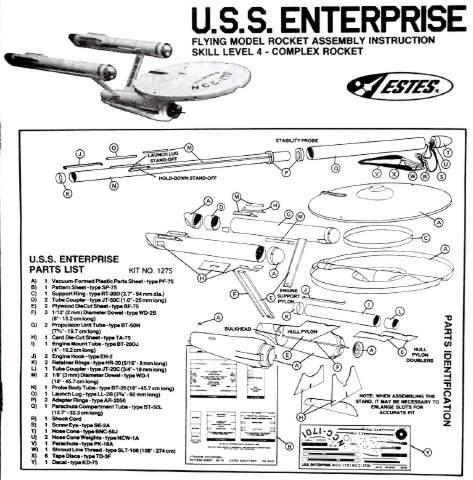 Overall Rating: 4 out of 5