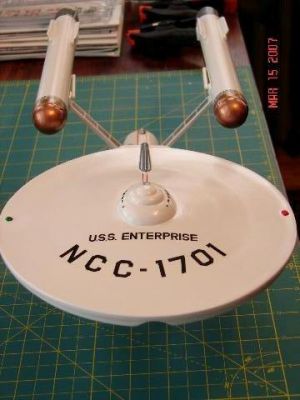 Brief:
This is a single stage 18mm kit of the famous Starship Enterprise. There are other excellent reviews of this rocket that accurately detail it's construction so I won't call out every detail on this build. I picked this kit up on eBay for $12.00 including shipping. As a matter of fact, I have purchased five of these in total for right around that same price. I notice that lately the prices are going up, but this kit can still be had for around $20.00.
Construction:
The kit is listed as a Skill Level 4 and I would say that it could even be bumped to a 5. The directions are very well written and extremely helpful. The build was a number of interconnected subassemblies which I found challenging but doable with patience and a lot of sandpaper and some filler.
This kit comes with many quality parts. It boasts a number of vacuum formed parts that must be cut out and then fit together. Follow the instructions exactly when cutting these parts out. Sandpaper is used to fine tune the shapes of the vacuum formed parts so you don't have to be perfect while cutting, as you just don't want to cut into the parts themselves. Following the instructions will prevent this.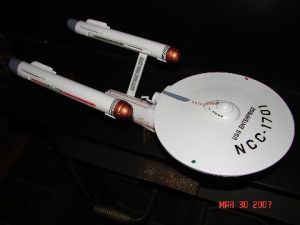 I've heard it said that sturdiness can be an issue for this model, however, I found that with the right amount of glue and multiple applications of it, sturdiness was achieved.
The flight probe for this model is built separately. It's an easy assembly. It is about 30" long with a balsa nose cone with lead weight attached. This assembly houses the parachute and is attached to the model only for flight.
Finishing:
Finishing of this kit took a good deal of time. I kept the saucer section separate from the rest of the ship while painting. I applied one coat of gray primer and then sanded and filled voids with Elmer's Fill 'n' Finish. I then applied another coat of gray primer and hit voids again and then sanded once more, followed by one last coat of primer. I then followed that with a gloss white coat.
For some reason when I applied my second coat of gloss white paint onto the saucer section and the main body of the ship, it raised up and had to be sanded down to the primer again. This caused some delays, but after that, it was a straight white paint job followed by a bit of masking for the nacelle ends and the application of nacelle components.
After all paint had dried, I glued the saucer section to the main ship with 6 minute epoxy. It is important to make sure it is straight and level.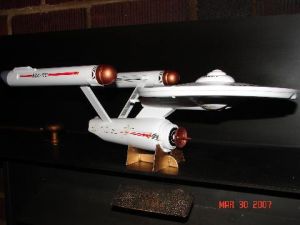 Next came the waterslide decals, which for their age, performed very well. I cut each decal out and ordered them before beginning. I held the ship with on a dowel inserted into the engine mount tube so that I could apply decals around the surface of the ship by simply turning it. The decals really make this model! After the decals had a chance to dry, I coated the entire model with two coats of clear.
Construction Rating: 5 out of 5
Flight:
The recommended engines for the model are B6-2 and C6-3. Unfortunately I just like this classic kit too much to send her up. Ordinarily my policy is that everything flies, however, unless/until I build another one of these, this one will be a static display model.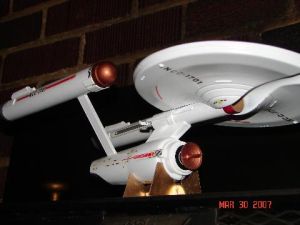 Summary:
I really enjoyed building this model. It was extremely challenging, and the finished product is just outstanding.
I highly recommend this model to those who want the satisfaction of an extremely challenging build and outstanding replica of the famous Starship Enterprise.
Overall Rating: 5 out of 5