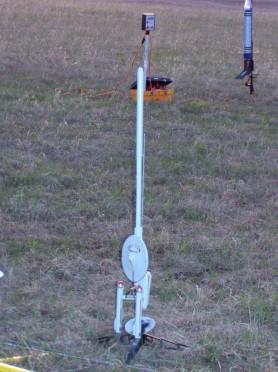 Brief:
Single Stage 18mm Model rocket that commemorates the 25th anniversary of Star Trek. Rocket recovers via a single 18" plastic parachute.
Construction:
This kit comes with a quite extensive parts listing, many of which are unique to the kit. Therefore, this kit would be very difficult to clone. I will list them as listed in the instructions.
1 Vacuum Formed Plastic Sheet PF-75
1 Pattern Sheet SP-75
1 Support Ring RT-99D (3.7"-94mm Dia.)
2 Tube Couplers JT-50C (1.0" 25mm)
2 Plywood Die-Cut Sheets BF-75
3 1/2"x6" (2mm x 15.2cm) Diameter Dowels WD-2B
2 Propulsion Unit Tubes BT-50H (7 3/4" 19.7cm)
1 Die-Cut Card Sheet TA-75
1 Engine Mount Tube BT-20DJ (4" 10.2cm)
2 Engine Hooks EH-2
2 Retainer Rings HR-20 (5/16" 8mm)
1 Tube Coupler JT-20C (3/4" 19mm)
1 1/8"(3mm) Wood Dowel WD-1 (18" 45.7cm)
1 Probe Body Tube BT-20 (18" 45.7cm)
1 Launch Lug LL-2B (2 3/8" 60mm)
2 Adapter Rings AR-2050
1 Parachute Compartment Tube BT-50L (12.7" 32.3cm)
1 Shock Cord
1 Screw Eye SE-2A
1 Nose Cone BNC-50J
2 Nose Cone Weights NCM-1A
1 Parachute PK-18A
1 Shroud Line Thread SLT-108 (108" 274cm)
1 Tape Disks TD-3F
1 Decal Sheet KD-75
This kit is listed as a "Skill Level 4" kit and requires a lot of careful studying of the instructions, cutting, and fitting. In my opinion, I have built easier "Skill Level 5" rated kits. Illustrations are clear and helpful. Especially the two full pages illustrating the painting and placement of decals.
Even though the instructions seem fairly logical in order, I still built this model in subassemblies. When using this method of construction, I found myself jumping all over the instructions. This method keeps the construction process flowing at a steady pace, and cuts down the construction time considerably.
Even though several templates are included to help with the alignment, I still found this to be one of the most difficult processes. Correct alignment of the Bridge and Engine pods require a lot of patience. A slow setting glue will allow you to make small changes as the glue dries that will greatly improve the finished project.
Follow the instructions verbatim when cutting out the vacuum formed parts. Take your time, and less finishing effort will be necessary later on down the road.
Sturdiness is difficult to obtain when dealing with a rocket that has so many parts hanging off. Some sturdiness can be gained by spending considerable time running glue fillets.
No special tools were required to build this rocket, but a container of Elmer's Wood Filler will go a long way in greatly improving it's finished image.
Finishing:
Finishing time requirements will be equal or greater then construction if one wishes to obtain a rocket that resembles that displayed on the box.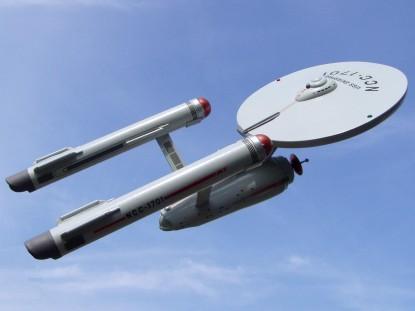 After the construction phase was complete I spent a considerable amount of time laying glue fillets to obtain a little more sturdiness. Then I sealed all Vacuum formed part joints with Elmer's wood filler. After the filler dried I was able to sand the joints, removing all flaws and obtaining a seamless joint appearance.
Three coats of spray on Kilz wood sealer, lightly sanded and then followed up by three coats of Krylon Gloss Gray resulted in a great, smooth finish. Now a very fine detail brush and steady hand is required to paint the dozen individual small details. Additional colors used were red, green, dark gray, silver, and bronze. CAUTION: when painting vacuum formed parts with Krylon: Krylon applied direct to vacuum formed parts may result in the part softening, and in some cases even melting. That is why a sealer is a necessity. The Kilz protects the vacuum formed part from the adverse affects of Krylon and allows me to still obtain the nice finish that Krylon offers.
There are many water slide decals requiring a steady hand and patience. For the smaller micro decals, I would place them on the tip of a fine X-acto knife blade to cut down on the cumbersome process of placing them with big clumsy fingers. Placement is well illustrated on two pages in the instruction.
Decals are what really make this model stand out when finished. To keep them from being inadvertently scraped off during flight, I always seal them in place with three coats of Krylon clear gloss paint.
Construction Rating: 4 out of 5
Flight:
Recommended motors for this rocket are few: B6-2 or C6-3. For my first flight I chose the now extinct C5-3.
Preparation is the standard Estes Wadding. Motor retention is accomplished by the Motor clip.
Since this rocket's bridge acts like a large fin, a weighted stability boom is required for flight to move the CG forward of the CP located on the bridge. Any effort to fly this rocket without the stability boom should be discouraged as it would surely result in it's destruction.
With the boom, and on a C5-3 motor. the rocket flew amazingly straight to approximately 250-300 feet. The chute deployed nicely at apogee on this motor and delay.
Recovery:
Flight recovery is accomplished via an Estes plastic 18" chute and elastic shock cord. Chute size appears to be nicely matched resulting in a recovery speed that returned the rocket in mint condition. Later inspection did yield some very slight heat damage to the paint finish on the motor tube near where the ejection chare is initially expelled.
The only two changes I would consider is maybe building a baffle to incorporate in the long stability boom and thereby dumping the need for wadding. A nylon chute would also be a nice touch but remember that weight is critical on this underpowered 18mm powered rocket.
Flight Rating: 4 out of 5
Summary:
I like the finished project. However, I so dislike working with vacuum formed parts that it took two start attempts spanning 9 months before I achieved a finished rocket. The biggest CON of this kit thus goes to vacuum formed parts and the detailed painting requirements.
However one CON aspect of this kit contributes it's biggest PRO characteristic. If the effort is expended on painting and decal placement, you will end up with a rocket that is destined to be tree'd by the rocket Gods. The finished rocket looks to nice to fly, repeatedly!
Overall Rating: 4 out of 5