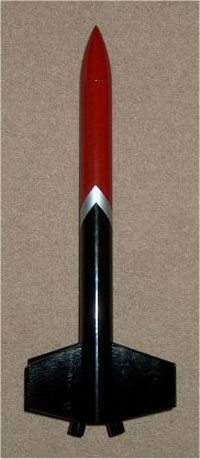 Brief:
The Deuces Wild is a very unique model rocket from FlisKits, a newer company on the block in the model rocket industry. The Deuce boasts a cluster using dual 'canted' 18mm motors, which gives it a really cool look both on the pad and in the air.
Construction:
The model came in a plastic bag, similar to Estes Rockets, but that is where the similarity ends. Inside the bag was a real balsa nosecone, something I have not seen in kits for years, along with motor mounts, plenty of Balsa for fins, parachute, hardware and body tube. What impressed me was the quality of the components; the bodytube has a nearly invisible spiral!
Moreover, when I purchased my 'build' kit, it came with the new laser cut fiber centering rings, which was one of the changes mentioned/recommended in a previous review. In fact, I had purchased an earlier Deuces Wild! kit, serial #9, but wound up saving that one due to the low serial number (yes, they actually serial number the first 100 kits produced off each line; a nice feature for collectors). When I ordered the second Deuce, FlisKits sent me an extra set of laser cut CR's for my 'pre-mod' kit so it would also have the upgrade. This was the first time I had seen a manufacturer actually follow through with suggestions from rocketeers, then actually ship an upgrade for the model; this is the kind of service that is unheard of in this day and age; well done FlisKits!
Building the model was a blast as the well written instructions made it very easy to construct. I started by using the new fiber laser cut CR's to build the motor mount assembly and it went together well. Extra tips in the instructions on keeping the mount 'square' to the CR's made it very easy to assemble. The MMT uses an upper and lower centering ring, with a triangle support wedge for additional support and proper spacing of the rings; it is a very solid unit once built.
Following the MMT construction, you need to cut out a 'wrap' for marking and cutting the body tube. My wrap fit perfectly and I marked the position of the fins, launch lugs and the openings for the MMT tubes. Next, I cut out each motor tube opening and test fit the MMT assembly; FlisKits has put some thought and effort into their templates as it was a good match. The motor mount assembly was glued into the bottom of the bodytube following the instructions.
A nice touch for the model is the fact that you have to 'cut out' your own fins from balsa stock.
This was very enjoyable and made it seem like you were really building the entire model, not just assembling parts like other mfgrs. Fin patterns were simple to use and I was impressed at the fact that there was actually balsa left over, another nice surprise as I had more than I needed, rather than having to worry about being short changed. The fins were glued to the model and they state that you do not need to round the edges of the fins. I decided to go 100% stock and followed all the instructions to the letter for that 'nostalgic' look/build.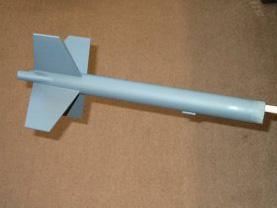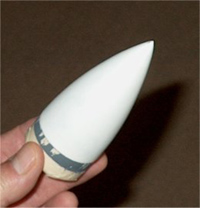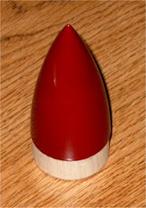 In keeping with tradition, I even used the three-fold paper shock cord mount, provided with the templates. Once installed, I coated the top of it with glue and to date is still in great condition, even with many launches. The nosecone was next; they recommend using sanding sealer, but I used thin CA glue instead, which after two coats and some sanding gave the nosecone that plastic look and feel. An 'eye' screw is provided for mounting the other end of the shock cord to the nosecone, which worked out well. Finally, the parachute was assembled. FlisKits uses a plastic parachute similar to Estes, where the chute is cut out per the instructions on the parachute plastic and shroud lines are attached. One unique difference is that they use a single parachute pattern for all sizes; you simply cut out the size you need from the pre drawn pattern.
Finishing:

I finished the model using Krylon paints, after rubbing Elmer's Fill and Finish in the balsa grain; I did mine in a Red-Silver-Black pattern. After a few coats of primer, the paint went on and covered well. I did not bother clear coating as I didn't want to add extra weight. As is, the model is surprisingly light considering it's size.
Construction Rating: 5 out of 5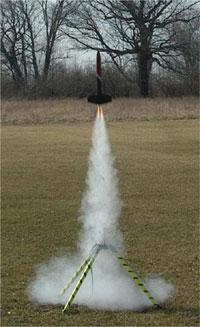 Flight:

I showed up to the launch field on an off-week for our local club to find two of our club officers getting ready to fly LPR. We set up some pads quickly and I began prepping the Deuces Wild for it's first flight. I used two B6-4's for the maiden voyage and went completely traditional, using tissue for wadding and masking tape to retain the motors.
Recovery:

The Deuce took to the air under dual power to a nice and low flight of around 250=92 or so and ejection happened just beyond apogee. The model floated gently to the ground using the 16" parachute and landed without a scratch. With as light as it is, I could almost bet it would take a tumble in without chute and still do fine. I launched a few other rockets and by then the wind had calmed a bit, so I prepared the Deuces Wild! again with a pair of C6-5's this time. Both motors lit and the smoke trail was very defined and cool- I finally got to see my first dual cluster smoke trail and it was a great one at that! Altitude was very good, flight was straight as an arrow and ejection happened right at apogee. From then on, I have been hooked. The Deuce had flown several times since then, mostly on C6 motors and has even landed unscathed with a broken shroud line on my chute. I have been very pleased with the looks and performance of this model.
Flight Rating: 5 out of 5
Summary:

In summary, the FlisKits Deuces Wild! is an easy building, great flying model that screams nostalgia, thanks to good old fashioned high quality components, yet it boasts high tech with a canted cluster design. The manufacturers have got it right on this one and I highly recommend this kit to anyone that wants a great rocket that is even a better flier. In fact, I liked it so much I designed and build a 38mm upscale of the 'Deuce' and hope to debut it at NSL 2003. More to come on that, but for now, I recommend you look at this modestly priced model as an addition to your fleet. You don't have to worry about gambling on this one as you just can't lose with 'Deuces Wild!'.
Overall Rating: 5 out of 5