Brief: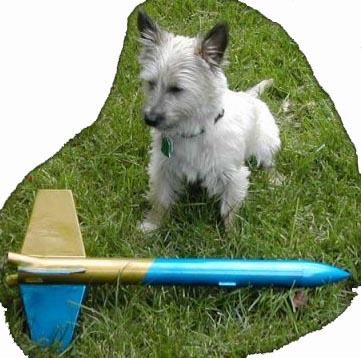 Just another quick review of The Rocketry Forum's favorite kit...large fins, 2 canted 18mm motors, 'nuff said!
Construction:
I won't repeat all of this information, I'll just be pointing out what I think are the high points, assuming you have read the other reviews, above.
The parts are all of good quality, and the laser cut fiber motor mount components make assembly easy. With a balsa nose cone, and cut-them-yourself fins remind me of the 'old days'. The only change I made was adding a leader of Kevlartwine that I epoxied to the motor mount before its insertion.
Finishing:
I strengthened the tip of the cone with thin CA and filled all balsa surfaces with Fill-N-Finish. The cone looks nice and is relatively hard, but the surface is rougher than most. This required an extra filling cycle, but the end result is great. The only other issue is that the proximity of the motor mounts makes masking the fins a bit tricky. I painted mine sort of like the packaging shows, using Testor's Sapphire and Lime-Gold Metal Flake paint. The Testor's paints really look nice.
Construction Rating: 4 out of 5
Flight:
As with most model rockets, I used dog barf wadding wrapped in a layer of Estes wadding. No motor hooks are provided, so I wrapped the motors in masking tape. I flew my Deuce on 2xB6-4, 2xC6-3, 2xA8-3, and 2xC6-5, in that order. All were great flights - the logs are below. Oddly, on the flight on the C6-5s, it unexpectedly turned slightly with the wind at about 100'. Must have hit a gust.
Recovery:
On the first 2 flights, I lost shroud lines, so I replaced the 'chute with a nylon one for the subsequent flights. The Kevlar/elastic shock cord kept the nose well away from the body. No 'smiles' here.
Let's see, take away a point for the 'chute, and half a point for the lack of a Kevlarleader. Add back in 2 points for being totally cool, and you get a flight rating of 5.5. Oops, can't go over 5 :-).
Flight Rating: 5 out of 5
Summary:
Cool looks, cool flights with dual smoke trails...5 points! BTW, someone else at the launch is building a 24mm upscale.
Overall Rating: 5 out of 5