Construction Rating:






Flight Rating:






Overall Rating:





Contributed by Steve Lindeman
Brief
Lucky or unlucky? For those of you that have followed my Goonyness this was Baby Bertha kit bash #13. As such I wanted to play it a little safer with this one so I choose a simpler design. Again this is not a kit review of the original Estes Advanced Target Drone (Kit #1913) [1983-1985].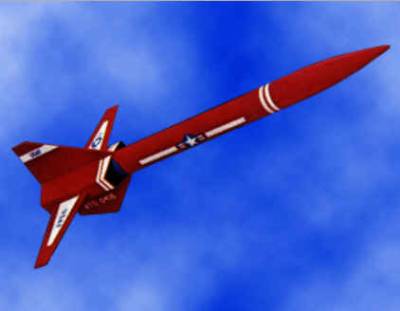 It is yet another of my many kit bashes. All fin patterns and decals came from http://www.spacemodeling.org/JimZ/estes/est1913_AdvancedTargetDrone/est1913.pdf.
The major difference being that mine is a Goony version of the Advanced Target Drone and as such is built with a BT-60 tube instead of a BT-50 tube that was used in the original.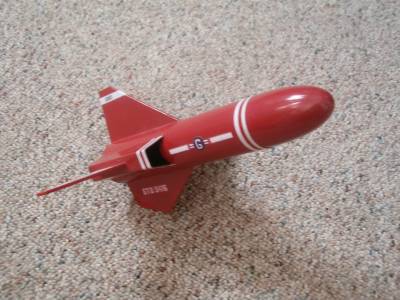 Components
As stated this is once again another kit bash so the main components are as follows.
From Baby Bertha kit:
1-

BT-60 Body Tube

1- PNC-60 Nose Cone

1- Launch Lug

1- Engine Hook

1- Shock Cord

1- Assembled 12" Parachute (transparent orange plastic)

1- Mylar Retainer

1- Green Engine Block

1- Blue Engine Mount Tube

1- Centering Ring Card
From My Personal Stock:
1- Sheet Printer Paper (for printing out new decals and covering balsa)

1- Cereal Box Panel (for making the scoops)

1/4 oz. Modeling Clay (for nose weight)
Decals from the Baby Bertha were discarded and balsa wood was gone over with HobbyLite filler to fill in all laser cuts. After a light sanding to smooth things out all balsa was sprayed with 3M Spray Adhesive and covered with left over printer paper after decals were printed out. New patterns were then drawn for all parts on the wood and cut out using an Exacto knife and hobby saw.
Read the rest of the review ...