Contributed by Nick Esselman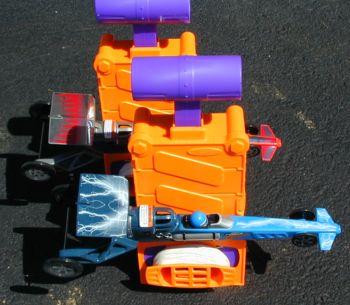 Although I don't remember my age, I do remember in my youth building a scratch rocket car. I purchased RC Airplane wheels and used existing rocket tubing. I had 1 wheel on the front and two wide-spread wheels on the back. I eventually launched it on an 18mm motor and the car proceeded to take off forward then commenced to flip, cartwheel, tumble and everything else except stay on the ground. Thus ended my rocket car experience, until now.
I have been waiting, I'm sure like many, for the year or so it took to finally release the Estes Blurzz Rocket Power Car. I ordered two cars and several packs of motors from AtoZ Hobbies. They arrived on the same day that we had our driveway seal coated. Our driveway is 119 feet long and you need 90 feet of flat surface. We have a match!
The Estes Blurzz Rocket Car kit includes the pre-assembled and finished car and all that is needed to race your car, including two A10-P (plug) motors. It is designed to be a self-contained carrier. Nicely done.
SET UP:
The instructions give direction for set up. You will need to have some weight to set on the two bases that the guideline is run between. Estes recommends two 2-liter bottoms filled with sand. I used rocks!
Unwind the guideline all the way, place weight on the home base, pull taunt, and place weight on the finishing base.
The parachute is set up at the far end by placing it into a tube to keep it from blowing around. The cars are "connected" onto the guideline via the motor mount and an s-clip on the underside of the car's front nose.
The motor is installed in a Mighty Might style holder with a twist-in-place motor retainer. The motor mount is then "snapped" into the bottom of the car.
The main base has a blast shield built in. Also built in are the controller clips to attach to the ignitor. The controller is typical Estes ebeam. I like them, especially the spring loaded safety switch.
RACING: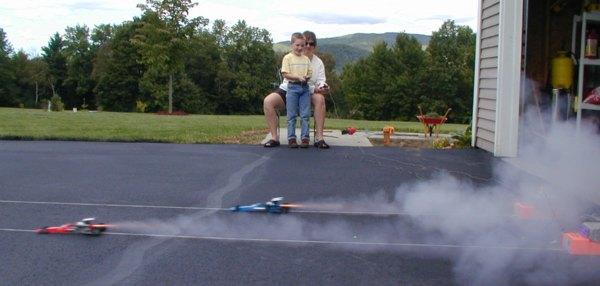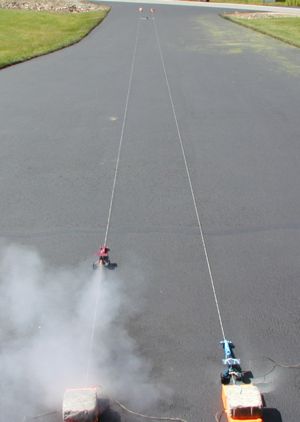 I set up both cars, the Red Menace and the Blue Storm . Gave my wife one controller and my son the other. 5, 4, 3, 2, 1, "GO" (inappropriate to say launch) and snapped the picture. Isn't it great! Estes should pay me for this promotional shot! I should enter it our "The Launcher" Photo Contest!
The runs were fast and neat to watch, especially how they "pick up" their parachute and slow to a stop.
We did three runs, and other than an ignitor failure on one race, all runs were perfect.
The Red car always was faster out of the base, but always lost to the Blue car (which was my son's, so that was a good thing).
I give the Blurzz Rocket Cars an OVERALL rating of 4 ½ points. I think they are great. I would have liked to see a self-retracting guideline to make them perfect. My hand got tied from winging up both guidelines.
So, will I rebuild my scratch rocket car of my youth? Well, you can anticipate seeing something from me, I'm sure.
Browse our database of about 4,300 reviews of rocketry kits and other products.