Contributed by Matthew Gillard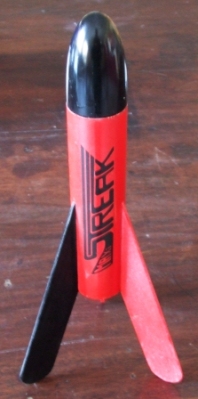 Brief:
The Maxi Streak #1837 is a long time OOP rocket from Estes. Got the plans off JimZ's website. It is like an upscaled mosquito with swept back fins or a streak with rounded fins and upscaled. The instructions call for a 24mm motor mount, which I changed for an 18mm mount: a D or E motor would put this thing into space.
Modifications:
The maxi streak is a very quick build. The instructions are of the normal Estes quality. I don't like the tri fold method for anchoring the shock cord, instead I use a steel fishing leader attached to the motor mount, this also stop burning issues to the shock cord.
The mount was glued into the body tube, the instructions called for the end of the mount to extend beyond the end of the tube, I put it in flush to give the rocket a cleaner line.
Read the rest of the review ...