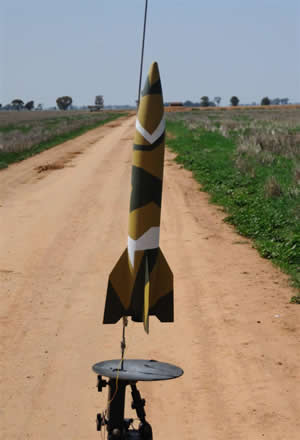 Brief:
This is a scale V2 MPR/HPR kit using parachute recovery
Construction:
The kit comes with four 5 ply fins and two plywood centering rings that fit the shape of the pre-slotted boat tail for a 13" long 38mm motor mount. A single 11" length of 4" body tube and a large plastic nose cone, 1/4 inch launch lug and a bag of lead shot for nose weight. There was LOC's typical dinky chord you epoxy to the side of the body tube for a shock cord mount and 1/2" elastic as a harness for a 36" parachute.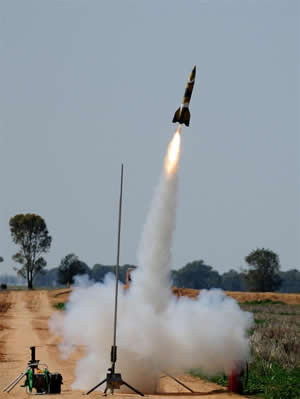 The instructions are typical of LOC's style - Brief, to the point and perfectly adequate, the build was an easy one by following the instructions.
I had to sand down the fins to better fit the boat tail but apart from that everything went together as it should. I followed the instructions when adding the nose weight but I also used a length of 3/8" all thread to scratch up the inside of the nosecone to get better epoxy adhesion.
The only modifications I made were to use a U bolt into the top centering ring for recovery harness attachment, and to use 15 feet of 1/2 inch tubular nylon as the harness. I also added an Aeropack retainer. I should however have ditched the 1/4 inch launch lug and replaced it with rail guides.
The kit says this rocket should weigh 41.5 ounces, but when built mine came in at around 36 ounces.
Finishing:
I washed the nosecone and boat tail before the build to remove any mould release and gave them a sand with coarse sandpaper prior to spraying the rocket with Primer/filler. I ended up painting mine in pseudo 1943 camo.
Construction Rating: 4 out of 5
Flight:
I built and painted this rocket in a week to use for my level 1 certification flight and ended up using an Aerotech H180W with a medium delay. The rocket suffered from a bit of rod whip and in the gusty conditions weather cocked a bit, but apart from that the flight was very cool and impressive.
Recovery:
The parachute was about right for this weight and size rocket but as I said above I used 15 feet of 1/2" tubular nylon for the recovery harness. I think this was a wise move. Recovery was excellent
Flight Rating: 5 out of 5
Summary:
This is a great looking kit that is easy to build if you pay attention to the details. It flies very well indeed!
The main cons are the shock chord attachment, recovery harness and launch lug. I'll be modifying mine to remove the lug and replace it with rail guides.
Overall Rating: 4 out of 5