Estes - Big Bertha OpenRocket Design File
Contributed by Wolfram v.Kiparski
Comments: Before the Big Bertha was first offered as a kit in 1965, Estes Industries published Rocket Plan No. 13, which is the original Big Bertha. The original BNC-60L was not a simple ellipsoid, but was pointier. I still had a rounded tip. A good picture of how it looked appears in the 1964 Estes catalog. Other major differences between the original and modern Big Bertha are the 3/32" thick fins and shorter motor mount with an engine block and no hook.
Designer: Vern Estes
Download Big Bertha original.ork
To use the design file above, you need a copy of OpenRocket, a rocket design and simulation program.
Kit Name: Estes - Big Bertha {Kit} (1948, 23, 7007)
Diameter: 1.6400 inches
Length: 24.0000 inches
Style: Sport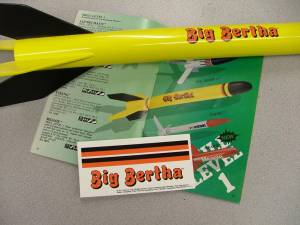 What You Can Do