Brief
My first model rocket kit build in 30 odd years!
I built it following the instructions with the exception of papering the balsa fins and putting small external fillets on them.
Model: LP-K017
Manufactured by: Launch Pad
Length: 16.75 inches
Diameter: 1.6 inches
Recommended Motors: D12-5, D12-7
Skill Level: 3

Components
8FNC!
Body Tube
Motor Mount
Recovery Hardware
Construction
Complete kit with good instructions. Just build, paint and fly!
Followed the instructions to the letter. Good illustrations to accompany the paragraphs of build instructions. You actually have to read the instructions unlike an Estes kit which most can assemble by the excellent illustrations alone.
As with other TLP kits, my clay was dried out. I rehydrated it in water, used it all, and still needed to add 1 ounce of weight (BBs) to get a good CG, right in front of the fins.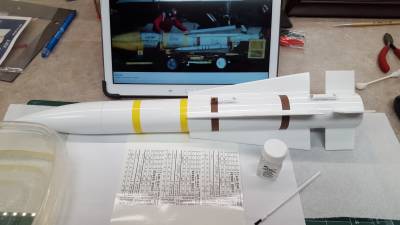 Finishing
I papered the fins using regular printer paper and Elmers white glue lightly thinned with water. This added good rigidity to the balsa fins and left a good surface for painting. Several coats of gloss white, then the decals, then a gloss clear. I'm really happy with the finish!
No decals are included. My decals are a copy of the Madcow 4" Phoenix decals scaled down and printed on Testers decal paper. Still note that a single decal sheet isn't sufficient. I printed 3-4 sets.
Construction Score: 4
Flight
Maiden flight on a D12-5. Flew perfectly, no spin, no weathercocking. And no ejection charge ...

Recovery
I knew it was in trouble after it nosed over and picked up speed. Closer and closer it came and you could start to hear it whistle. Thud, 20 yards away it lawn darted. Turns out the ejection failed to fire and Estes has promised to compensate me.
Fortunately the fin can is perfect and it will be easy to chop off the nose and rebuild her (already got a BT60 tube)!
Flight Rating: 4
Summary
This little kit is to serve as a style guide for me for the 4" Madcow Phoenix I'm building for my L1/2 cert flights. It, in turn, will serve as a build guide for my planned 1/2 scale Phoenix.
Overall Rating: 4