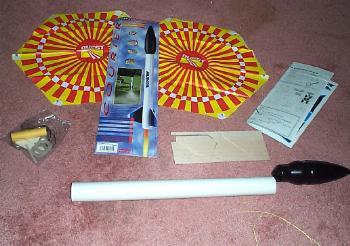 Brief:
The Quest Courier kit is a single stage egg-lofter with the egg housing/nose cone as a slip together unit. Overall, a good looking and effective egg-lofting rocket.
Construction:
The kit comes with a 18mm motor mount assembly that's glued into a Quest-T-35 (1.378 diameter) tube, a set of pre-cut fins, and two 14" 'chutes. The 'chutes were pre-cut and very brightly colored. A piece of 18" Kevlar thread was included with the recovery parts. Nothing out of the ordinary.
No part of this kit's construction was any different from an Estes or Custom (brand) model rocket kit.
I used yellow glue on everything except where I wicked ca to the upper part of the sustainer tube.The upper half of the egg cone is sealed with black electricle tape to the lower half after the egg is installed.
My test egg weighed 2oz. Don't forget nose weight if you launch this rocket without any payload!

Finishing:
Finishing the kit is a no brainer if you want a sharp looking rocket like the one depicted on the card insert. Decals for the fins and sustainer. An extra Quest sticker in blue, black, and light blue are included. The finished rocket is an eye-catcher at any launch.
Construction Rating: 4
Flight:
Quest recommends the following motors: B6-2, B6-4, C6-3, and C6-5. I did my test flight on a C6-3. The rocket didn't reach astounding heights but it did leave the pad in a hurry. Three sheets of wadding and some baby powder brought the 'chute out with a snap. The rocket does what you would expect it to and the Courier is a mainstay in the Quest kit line!
Recovery:
I like the fact that Quest uses Kevlar in their recovery systems. We can only hope that Estes follows Quest's example.
Flight Rating: 5
Summary:
Quest makes a great model rocket kit and usually at a cheaper price than a comparable kit from Estes. I like the Quest 'chutes better and the shock cord is far better than an Estes kit. You don't have to worry about a Quest shock cord burning thru and you will get many flights out of it for that reason.
Overall Rating: 4