Brief:
I upgraded the motor mount to a 24mm, 1/8" balsa fins, epoxy glue joints, Aerotech 24" rip stop parachute for payload and 18" for booster.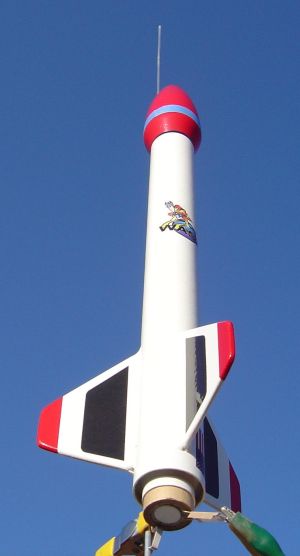 Construction:
The new motor mount is exactly the same design except that I used bigger centering rings and a bigger body tube.
PROs:
great idea and flight concepts
easy to follow instructions
great Kevlar® shock cord mounting system
great science kit for the students to try several options in flights and designs.
CONs:
factory balsa fins are way too thin and several were cracked on shipment arrival.
factory parachutes are flimsy and will burn even with extra wadding.
factory launch lug mount is same balsa material--too thin.
Finishing:
No special care or techniques required. I taped off and painted my own color scheme.
Construction Rating: 3 out of 5
Flight:
Recommended motor for the stock kit is the C6-5. I used the D12-5. Flight prep is standard: wadding, proper folding of chutes, and careful packing into body tube.
Flight is awesome! This rocket is meant to be flown on a D or E motor. It went straight up without rolling or weathercocking and cruised to apogee then upon recovery deployment the separations were flawless.
Recovery:
The only thing I would recommend is that you change your parachutes to the more sturdy Aerotech rip stop nylons and use extra wadding because of the bigger recovery charge. You could also convert the booster's parachute to a streamer as it is very light after separation.
Flight Rating: 4 out of 5
Summary:
PROs: great science kit, great idea and fun to try several experiments on payloads, designs, recoveries.
CONs: too thin balsa material, too flimsy parachute and shroud lines, and too heavy (with egg payload) to be flown on a C motor.
Overall Rating: 4 out of 5