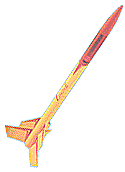 Brief:
This is a two-stage payload rocket. Kit says dual parachute in some advertising but is only a single chute recovery. Flies on A through C engines.
Construction:
One (1) body tube, One (1) plastic payload section which is red. Three (3) fins per stage both stages use a 18mm engine mount with a hook. Kevlar shock cord attaches to engine mount and pulls up through the body which then attaches to an elastic shockcord to the cute and payload section. Plastic nose cone which must be attached by friction to the payload if payload section is to be used. I glued mine in.
Over all instructions were easy to follow and in a logical order. It is a great first two-stage kit for someone who wants to move on.
Finishing:
Once finished this rocket looks good. Has very nice lines and color scheme and decals are good too. I would reinforce joints though for two-stage launches.
Construction Rating: 4 out of 5
Flight:
Flew in both single-stage and two-stage configurations. As a single-stage it's a great flier. Nice and straight on A8-3 and B6-4. Went really high on a C6-5. In two-stage flight this baby goes out of sight! I would recommend installing a streamer for two-stage flights. I did not do this and the rocket is now a 3/4 mile downrange in a forest somewhere! The C6-0/C6-7 combination gives it a real kick of a flight. Love it so much I am going to get another one.
Recovery:
As I said, the 'chute is good for single-stage flights but use a streamer on two-stage flights! I would use a snap swivel attachment for ease of interchanging these.
Flight Rating: 3 out of 5
Summary:
Great kit, easy to assemble and good step up for someone wanting to advance. Was not sure about the staging process with two hooks therefore not allowing taping the engines together but it fired fine for me.
Overall Rating: 4 out of 5