(
Contributed
- by Brett Noake)
Brief:
The kit is designed to use a piston ejection system (motor) ejection to deploy the parachutes. The booster section uses a 60" parachute and the payload section uses a 48" chute.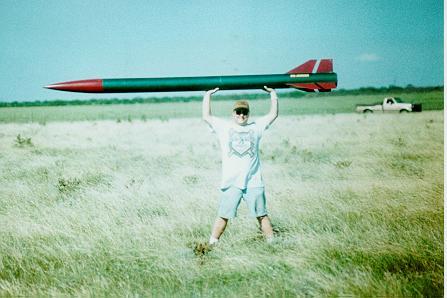 Construction:
1 6"x4' Airframe Tube (booster)
1 6"x3' Airframe Tube
6" Nose cone (fiberglass)
6 G10 fins
1 54mm Motor tube
3 38mm Motor tube
3 centering rings
piston assembly
2 elastic shock cords
bulkhead assembly
1 60" parachute
1 48" parachute
2 3/4" launch lugs
Instructions for this kit were useful, as in most PML kits. However, I modified the kit quite a bit. First I added 3 more 38mm tubes. I figured there was room for them, I might as well use it.
Finishing:
Finishing was simple, or at least as simple as seven feet of six-inch airframe can be. There are a lot of seams to fill!!! Although phenolic tubing is strong, larger diameters are somewhat flimsy and prone to cracking. I would suggest glassing the airframe - not necessarily for flight stress, but for landings and handling around the house. Be sure to align the fins! I didn't come up with any method of doing this, I eyeballed them and they came out fine.
Construction Rating: 4 out of 5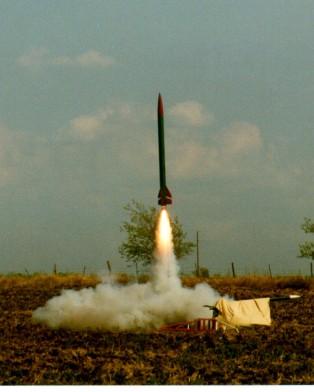 Flight:
Just like the Ultimate Endeavor's two little brothers, this kit is nothing short of awesome in the air. It is very stable and produces good, straight flights. The first flight was with a K550. This was my L2 cert flight and attained an altitude of 2988'. Second flight was on a K550 as well and reached 3074' (less wind). On these two flights, I used apogee ejection only. This was accomplished with an adept ALTS2 and motor backup. For a third back up system, I installed a missile works wrc2. Yes I am paranoid! I have seen big rockets crash into spectator areas, so I take all precautions. Besides, after filling all those seams, you don't want to redo any of the airframe.
Recovery:
I HATE PISTONS. In theory, they are wonderful but there are too many potential problems. If the piston doesn't have a good seal to the airframe, ejection gasses will pass by and not be sufficient to separate the two halves. If the piston gets stuck, you'll either blow a hole in the airframe or just have a bunch of compressed gas under the piston, neither of which will result in a good deployment. So, away with the piston!
Now that the piston is gone, two parachutes is a problem. I have tried this design in the past and had problems getting the booster chute out. If deployment is after apogee, your chances of getting the bottom chute to "fall" out of the airframe are slim. With the piston, this would work fine, but without the piston, I didn't want to test my luck. I chose to use a single 8' chute for the rocket, a little big, but good when you are bringing the rocket down on rocks. I also wanted to set the rocket up for dual deployment, so I used the parts from the piston to creat a "lid" on top of the coupler to house electronics. By housing the main chute above the split and electronics in the middle, you move the cg forward which is really good for clustered flights.
Second, THROW AWAY THE ELASTIC SHOCK CORDS! I know PML considers them to be adequate, but do you want to trust a rocket that is this big to elastic? If you do you are crazy. I used tubular nylon for the shock cord. I also used "U" bolts to anchor the recovery system.
Flight Rating: 4 out of 5
Summary:
Overall this is a good kit. I think PML should reconsider the recovery system. The cost of the piston, elastic shock cords and parachutes is figured into the price of the kit and I didn't use any of them. Fortunately, I had the replacement parts already, so it didn't cost me any extra. Other than recovery items this rocket is well worth the money. It is awesome in flight and will turn quite a few heads at the launches. I am getting ready to rebuild the booster to hold 3" motors. I am upgrading the fins to be 1/8" so the M1315 can be used.
Overall Rating: 4 out of 5