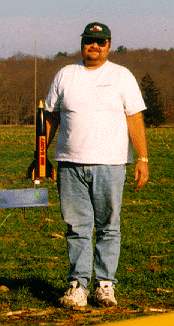 19" LG X 3" Dia
24" Parachute
24mm Motor Mount - D12-3 & 5 recommended
This is a great sport flyer that builds very quickly. If you upgrade the parachute to a quality nylon chute you have a very versatile companion for your Aerotech 24mm RMS!
Construction: 4
My kit is a pre-release beta kit so it did not come in the standard Estes packaging - just a basic plastic bag. All parts were present & accounted for. The heavy North Coast 3" body tube & nose cone are top quality. The balsa used in the fins was also of good quality and harder than many recent Estes kits have used.
The instructions were very clear and leave no doubt as to the proper assembly. If you have built a skill level 1 kit you'll have no problem with this bird. If it were not for the 24mm motor this kit would surely have been skill level 1. The kit uses precut slots for the "thru the wall to the mount" fins. This makes building a snap! Be sure to apply fillets as described in the instructions - especially if you plan on using composite E & F motors.
Since I planned on flying this rocket on F motors, I made a couple of minor modifications. The kit comes with a pre-assembled 24" plastic parachute and standard Estes paper shock cord mount. Both of these components are fine for flying on the recommended D12 motor but should be upgraded IMO if flying hotter motors. I used a length of Pratt Hobbies Kevlar® line, epoxied to the wall of the BT for a shock cord anchor. I substituted a spare 18" nylon chute I had in my rangebox supplied 24. I also added approx. 3/4 oz. of clay to the nose to offset the weight of the RMS F reload.
The basic color scheme for this rocket is black with a yellow tip on the NC. Red & Yellow decals with the kit name really make an eye catching rocket on the pad.
Flying: 4
This rocket follows the usual prep procedure. I used cellulose insulation for wadding. To ensure retention of my RMS case the motor hook had a wrap of masking tape applied. I flew this at a club launch in December on a very large field so I didn't even fly it on the D12. The F24-7 reload was perfect! The Firestar igniter lit the motor without hesitation and the rocket boosted straight to about 800'. The parachute deployed perfectly and rocket was recovered without incident. Even with an 18" chute the Big Daddy was in no hurry to land. Future flights on F motors will be done with a 14" LOC nylon chute but the 18" will be used on D & E motors.
Summary:
I really enjoyed building and flying this rocket. It's construction is very straight forward and can easily be ready to paint in an evening. Like the Fatboy, this airframe has many possibilities - 29mm, cluster, staged, etc. Use your imagination and have fun!
Overall Rating: