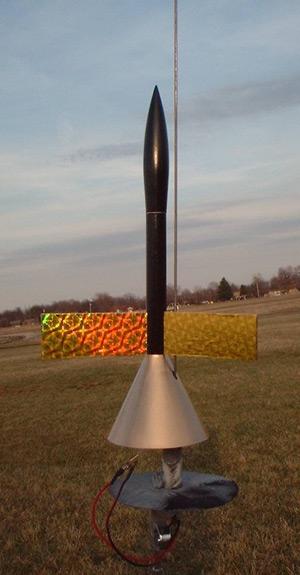 Brief:

If you're reading this to see whether or not this would be a good kit to buy, save your time, as this limited edition kit from EMRR's rocket kit division sold out before the first kit even shipped, making this kit as hard to find as an Aston Martin Vanquish (but for only a fraction of the cost).
Two-stage, funnel booster, and fairly unusual nose cone design (similar to the Honest John) make this an interesting design and fun flyer.
Construction:
The kit arrived at the end of February as promised, and was virtually complete (missing a centering ring, missing from all kits and immediately shipped out).
The parts list includes:-
Balsa Sheet (for 3 fins)
Card Stock Cone
Tube Marking Guide
Balsa Nose Cone
Nose Weight (washers)
(1) Eye-Screw
(2) Body Tubes (BT-50)
(1) Body Tube Coupler
(2) 18mm Motor Tubes
(4) 18mm Centering Rings
(2) Thrust Rings
(2) 1/8" Launch Lugs
Kevlar® + Elastic Shock Cord
Streamer (1x48 plastic, dayglo green)
Decals (water slide, very nice quality)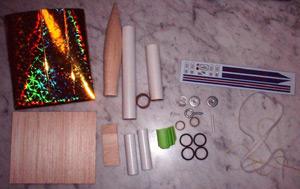 Note that this kit also came in a parachute version, but being stingy I opted for the slightly less expensive streamer version (and I also have a large stash of spare chutes).
The parts were all very good quality.
The instructions were very impressive, loaded with color photos at every step. Even more helpful were simple things like clearly marking the forward and aft ends of tubes and dimensions on parts in the photos. Not that any of you would ever blow this, but I've occasionally pulled a Homer (D'OH!) by ambling through motor mount construction in cruise mode, only to find that I'm off 1/4" and can't get parts to fit.
Since this is a two-stage design, construction starts with dual motor mount assemblies, and care must be used to get the rings mounted in correct positions. The motor mount assemblies are standard 2.75" tubes, centering rings, blocks, each mounted in BT-50 body tubes, joined with a coupler. Since I DID pay attention to the dimensions on this one, I found everything fitted perfectly. This uses gap staged ignition, so the booster assembly also includes punching a small hole in the tube for ventilation of ejection gasses. Having worked with a couple of TARC teams, I can tell you this minor detail, often overlooked, makes a big difference in sustainer ignition reliability.
Kudos to Nick and EAT for paying attention to what's got to be the #1 peeve on the rocketreviews site with modroc kit design - this kit comes with a generous amount of Kevlar®, mounted to the motor mount assembly for recovery. It's supplemented by elastic, but much more durable than the typical mainstream kits.
The booster "body" is a funnel, rolled from a cardstock pattern included in the kit. This can be a very tricky step if done right and going for a smooth, bend/wrinkle-free finish. I especially liked that the glue tab is a separate piece INSIDE the seam - most shroud patterns direct you to overlap the tab, leaving a very noticeable seam. This shroud/cone is virtually seamless.
The booster cone is reinforced with a centering ring (the one that was missing originally). This looked a bit flimsy to me, as the centering ring goes up to within about 1" from the top of the cone, but I went with it anyway. It does need to remain above the vent hole, though, to avoid blowing out the side of the cone on the first flight. I should also point out here that the instructions initially clearly warn about attempts to substitute materials or techniques, and this cone is a good example of why. The instructions call for white glue in several places. I'm a fan of the faster-tacking yellow glue, and used this frequently. I was smart enough to use white glue to form and seal the cone, but used yellow glue to bond the centering ring/stiffener, and the result was a minor shrink of the cone around the ring. Not too obvious to the casual observer, but definitely a case where white glue, which doesn't shrink, would have been best.
Sustainer construction is pretty easy, considering the (3) fins are simple rectangles 2x5", cut along the grain lines of the balsa. Depending on how you intend to finish the rocket, you don't even need to fill the balsa grain--the kit includes a very nice gold prismatic adhesive sheet for covering the fins (after painting).
The balsa nose cone was a bit rough, and took several coats of filler/sealer and sanding. It then gets a couple of washers for weight, held in place by a screw eye glued to its base. The screw eye is then attached to the shock cord and recovery device (for my kit, the recovery was a pretty nice dayglo green streamer, a whopping 48" long).
Construction wraps up with placement of the launch lug, which is done with the booster cone in place. There's a small hole in the cone for the rod to fit through, and this needs to be carefully aligned with a lug mounted to the sustainer's fin. My kit included a small piece of balsa in case I opted for a standoff bonded to the body tube, though no reference was included in the instructions for this.
Overall, this was a fairly easy build, thanks to excellent instructions, though the skills involved would definitely make this around a skill level 3 kit on the standard 1-5 scale.
Finishing:
I went with the kits recommended gold/black paint scheme for the finish, so after filling tube spirals (Elmer's Fill N Finish, diluted), I applied two coats of primer to everything, then painted the booster cone gold metallic and the sustainer a gloss black (avoiding the fins except for some overspray). The fins got the aforementioned gold prismatic decal paper, which looked great but wound up being very tricky to cut and apply. I'm not very good at wrapping Christmas presents, and found cutting one piece to completely cover the fins, including edges, was hard to do without leaving some sort of visible seam, and I found that the small sections have trouble bonding to the edges of the fins (I've tacked some edges on with CA, but will probably wind up using a good clear tape). It was especially painful to tack the adhesive around the launch lug.
I'm not sure what to do about the decals provided, though. They are very good water-slide decals, and offer attractive detailing, but having painted a gloss black base, I am not sure they'd offer any accent, so I'm holding off to use them on a clone of this at a later date, using lighter colors for the base.
Construction Rating: 4 out of 5
Flight:
Two straight first-flight dates were rained out, and I probably jumped the gun a bit deciding to fly in very windy conditions after helping a TARC team get a few practice flights in. With steady 15 MPH winds, I went with the lowest impulse I could get away with, using a B6-0 booster and A8-3 sustainer.
The rocket lifted off nicely, and being overstable with the nose weight and big, fat fins, weathercocked at a roughly 30 degree angle right away. The upper stage lit without a hitch, and the sustainer continued on a straight flight path. Ejection probably occurred at apogee, though on that flight line apogee's kind of hard to nail down.
The booster tumbled down very close to the pad, and sustainer, under the bright streamer, landed roughly 75 feet from the pad. Had the flight gone vertical, it would probably have been good for about 300-350 feet.
Recovery:
My sustainer just happened to land on the edge of one of those big fat fins, cracking the fin at the body tube joint (despite good fillets). It's an easy repair, and probably a good indication that I should switch to a chute next time (and avoid the heavy winds).
Under normal conditions, I would think the streamer is fine, and I attribute my broken fin to dumb luck, not to the design or construction.
Flight Rating: 4 out of 5
Summary:
I was very impressed with this kit, and at $19.50 (including shipping), feel I got a reasonable value. Unless EAT loosens up and goes for larger production runs, you'll have to be quick to get any of their kits, though, so be prepared to enjoy the innovative designs vicariously.
Overall Rating: 4 out of 5