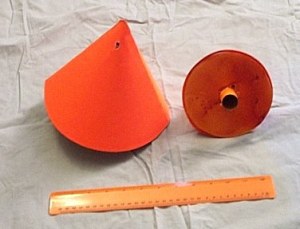 Brief:
Single staged conical rocket that flies on 29mm motors and recovers by a combination of tumble recovery and shock cord. The light weight of the rocket makes a streamer or parachute unnecessary.
Construction:
The kit comes in a sealed plastic envelope with two body tubes, namely, a 5 inch length of 29mm motor tubing and 5 inches of BT55 motor mount tubing. The rocket has no fins. There are two plates which are rather like centering rings, which the builder cuts from foam backed board stock. These round plates will hold the engine mount tubings and center the assembly inside the conical shell, which is cut from card stock. There is additional card stock used to cut a smaller internal nose cone reinforcement, which reinforces the pointed conical shape and also holds a small amount of epoxy that serves both as ballast and as tip reinforcement. There is 36 inches of 1/16 inch thick round elastic shock cord provided for recovery with the attachment being a paper folded attachment arrangement like those seen in Estes rockets.
The instructions come with the components in the plastic envelope and are neatly typed out with page numbers and greyscale photographs on every page. The components requiring cutting are clearly marked on the foam board and card stock. The order is clear and logical and the pictures help visual people like myself to imagine beforehand what the project will look like. To this last end, I provided you with a color photograph of the finished product next to the 24mm cone also flown, but shown on its side to show its motor mount. There is also a 12-inch standard ruler in the photo to provide scale.
The only difficult part of the assembly was fitting the internal nose cone assembly into the outer conical shell, and making all the launch rod holes line up. The assemblies are made by rolling and gluing card stocks and clamping them together until the glue dries. Keeping them aligned was tricky. I found that I had to enlarge the launch rod holes slightly on the inner assembly to match the outer shell. I discovered another slight fit issue with the motor mount ring that fits aftward into the conical shell. It seems to fit too loosely. This may be because I cut too much from the ring to bevel it and fit it neatly into the cone.
Also, the smaller 24mm cone has tube gaskets that hold the motor mount inside the slightly larger BT55 inner body tube. This 29mm version does not. While the rocket will not come apart during flight due to aerodynamic forces, some RSO's may not like to inspect rockets that cannot hold together when picked up by the top.
However, after assembly, the rocket came out sturdy and attractive. I chose antimatter orange, my favorite color. It helps with visibility, which, as you will read later, mattered a lot!!
Tools needed to finish the project are: a new, sharp #11 Exacto knife. New is best because foam board distorts and displays attitudes when cut with a blade the least bit dull. Also, white glue, scissors, and 5 minute epoxy. These can all be had in local hobby stores and even grocery stores.
Finishing:
The rocket requires no painting, as the card stock arrives with a colored outer side of the buyer's choice from several options. Decals were not used, but on solid colors like mine could look striking. I did paint the bottom of the rocket orange to match the shell just for the sake of art. The foam board from which the motor mount plate at the bottom was made is white. The paint also helps, in my opinion, if there are any imperfections in the cutting of the foam board, like nicks and burrs.
I added a few things of my own, but for the beta test, I flew it unmodified first, then with my additions. My changes are: The afore mentioned tube gaskets. A small, 12 inch parachute. And the shock cord mounted not with the paper mount provided, but by a glued knot held in place by the two foam board tube rings. The 29mm version needs a bulkhead inside the BT55 tube. I will explain later. Finally, neither cone has actual launch lugs. While lugs might not be necessary, I provided them to protect the card stock from gouging by the rods.
Construction Rating: 4 out of 5
Flight:
For the first unmodified flights, I brought along the 24mm version as well. I flew that one on a C11-3. The delay of 3 was just about right. I half expected a lateral flight like pyramidal rockets fly, but this cone went straight up and only lateraled slightly. The rocket separated undamaged at apogee and came down about the right speed, but I later added an 8 inch parachute because we fly here on hard desert soils. Mistake!!! I chased the rocket in a thermal on the second flight with a D12-3. Holy heatstroke, Batman! But I got it back undamaged. I highly recommend flying it as the manufacturer says, when he says to use a 6-inch standoff. If you don't, the underside of the rocket would burn. and foam and card stock couldn't stand that. After these two flights, I added the launch rod and the added weight didn't hamper performance.
Now, to the 29mm cone. Don't do as I did. I flew it in a park, thinking that a cone couldn't gain enough altitude to drift away. Wrong!!! On a G35-4, the rocket took off with a bang. My liftoff photo was only smoke. And the rocket went out of sight. I had to rely on a kid with better eyesight to tell me that the rocket ended up in a neighbor's yard clean out of that park. That was embarrassing having to ask to get it back. I couldn't just sneak over and get it. I had to ask for it back because all the plots there are concreted off by high fences. But it was undamaged, so the delay of 4 was adequate. 7 might work as well. The manufacturer recommends taking out 2/3 of the ejection charge for the flight because there's too much provided and it could damage the rocket. The black powder motors used with the 24mm version don't have that problem. Anyway, some RSO's do not want a modified motor flown, so on my modified flights, I added an epoxied wooden bulkhead to protect the internal top of the rocket during deployment. I also added a supplemental length of another 36 inches of elastic shock cord to allow more stress distribution after using the full provided ejection charge. I added the afore mentioned tube gaskets to hold the rocket together for inspections. A launch lug was also added within the launch rod holes. However, in my infinite wisdom, I added a 12 inch parachute to make the rocket descend more slowly and visibly. When it comes to heat stroke, I'll never learn...on a G25-5, the rocket went out of sight and drifted over half a mile. Again, though, that delay was fine. But with a G40, I found that 7 worked without damage. I'm leaning towards using a 7 delay because many with a 4 second delay seem way shorter than 4.
Recovery:
I pretty much covered this in the previous sections.
However, if I had to change something beyond what I already did, I'd suggest a streamer.
And don't do this when it's 115 degrees out, like I did. Brains fry at that temperature! However, I had a lot of fun.
Flight Rating: 4 out of 5
Summary:
These kits are fun and easy. A child or adult alike would like it. They're bright and unusual. However, I don't recommend flying in a park for and with greater than a D motor. They go higher than you'd think.
I think a streamer is a good addition, myself. A parachute may be too much, considering the light weight and potential for catching thermals.
Overall Rating: 4 out of 5