Brief:
This is a fully assembled plastic sport/scale model of the X-15 Hypersonic Research Vehicle. This model is capable of flights up to 600 feet high and recovers on a 12 inch parachute.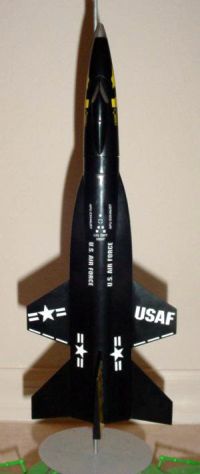 Construction:
The model came packaged in a blister pack and included:
1 fully assembled plastic X-15
1 retention cap
1 12 inch plastic parachute
Instructions
Since the model is completely assembled, all that is needed is to attach the parachute to the shock cord as recommended by the instructions.
PROs: Ready to fly right out of the package. What could be easier?
CONs: None.
Finishing:
The model is pre-colored in black with detail markings so no finishing or decal application is necessary.
PROs: Very sharp looking model with no painting or decal applications required.
CONs: None.
Construction Rating: 5 out of 5
Flight:
The recommended motors for this rocket are the B4-2, B6-2, and C6-3. This rocket does require recovery wadding and the retention cap holds the motor in place during flight. Make sure the motor is secure, the cap tends to fit the model rather loosely.
For my first flight, I loaded the model with a B6-4 as I did not have any B6-2s. Next I inserted about 4 loosely crumpled sheets of Estes wadding, then folded and inserted the parachute and shock cord into the body tube. The model lifted off fine, got about 50-75 feet up and then proceeded to go nearly horizontal. It reached maybe 250 feet which made the deployment late, but it did recover without incident.
For the second flight I went with a C6-3. This was a much better flight as the model took off nice, fast, and climbed almost straight as an arrow up to around 600 feet or so, then deployed a second or two after apogee and recovered without incident.
PROs: Flies great.
CONs: Prone to some weathercocking. I would not fly this model in windy conditions.
Recovery:
This model uses a 12 inch parachute for recovery which is adequate for the model's size and weight. Brings it in quick enough to avoid excessive drift but soft enough to avoid damage. After 2 flights, the parachute and rubber shock cord shows no signs of significant wear.
PROs: Recovers easily on provided chute.
CONs: None.
Flight Rating: 4 out of 5
Summary:
I really liked this rocket. I thought it was well made and flew very well. I would highly recommend it. Just make sure the motor is secure or it might kick. At $13.99 I think this rocket is a good value especially if you want to get into the air quickly.
Main PROs: It is RTF and has decent flight performance and recovery.
Main CONs: It has issues with the retention cap and you might be limited to calm conditions to fly this model.
Overall Rating: 4 out of 5