Picture courtesy of Semroc Astronautics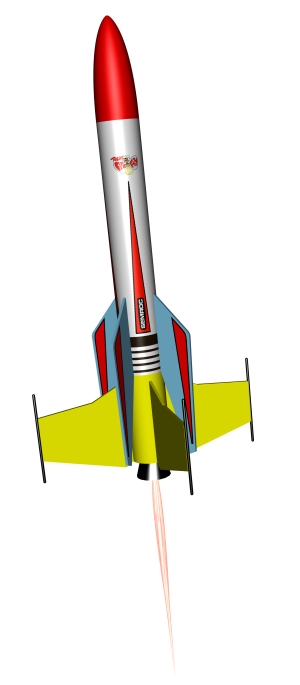 Brief:
The Texas Firefly from Semroc is a 2-stage great small flying rocket. It comes with a 12" parachute.
Construction:
Kit has balsa nose cone and laser cut balsa fins.
The instruction were easy to follow. The only thing I did not like was the way they had you to mark the fins on the tube. I would have liked it better if they would have used a wraparound marking guide. I liked the way that both engines had a engine hook to keep engines in.
Finishing:
Had no problems with finishing but when I sprayed clear coat after the rocket was painted, the decals seemed to melt and colors ran down the side of the rocket.
Construction Rating: 4 out of 5
Flight:
For the first flight I used a B6-0 in the bottom and B6-6 in upper stage. We had high winds of 15-18mph at flight time. It handled wind with no problem and the rocket went straight up. Separation happened with no problems. On the second flight I used a B6-0 in first stage and B6-6 in upper stage and flew it in 8-12mph winds. Separation still happened with no problem. Chute came out great and rocket floated to the ground. The only problem was when booster tumbled to ground. When it hit the ground, it broke a fin but was easily glued back on later.
Recovery:
On the first flight, the nose cone went thru parachute causing it to be tangled up. But even tumbling to the ground, the rocket had no damage.
Flight Rating: 4 out of 5
Summary:
A rocket that was fun to build and fly.
Overall Rating: 4 out of 5