Brief:
This is Quest's highly detailed sport scale model of NASA's next big-payload launch vehicle. The kit features beautifully detailed and pre-printed body wraps.
Construction:
18" White Body Tube
Blue Thrust Ring
Motor Clip
Yellow Motor Mount Tube
Die-Cut Centering Ring
Launch Lug
½ oz clay (Nose Cone Weight)
3 - 6" White Booster Tubes
3 - Booster Shoulder Tubes
3 – Booster Nose Cones
Main Body Nose Cone
Kevlar® Shock Cord
Elastic Shock Cord
14" Parachute
6 - Gripper Tabs
3 – 26" Shroud Lines
Fin Core Sheet
Lower Body Wrap
Upper Body Wrap
3- Booster Body Wraps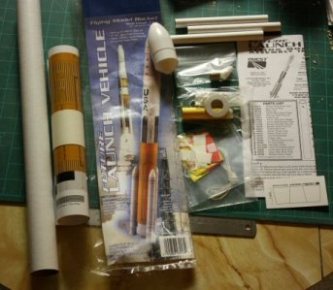 The instructions that came with this kit were detailed and easy to follow. The wraps were easy to cut out but DO follow the directions!
Use a metal ruler and a sharp knife - you will not regret it. I did have some problems with the kit, but they were entirely my fault. I didn't dry-fit the wraps well enough so I had some overlap even though I cut the wraps right on the edges. The booster wraps were a pain because the booster tubes are BT-5s and the wraps are small. The nozzles on the boosters were a bit problematic but only because I don't have tiny fingers.
I did use spray adhesive but you do have to be very careful because you only get one shot at getting everything aligned unless you act very quickly.
The nosecone has a mold line that needs to be sanded off but once that's done the assembly of the kit is quick and relatively painless.
One change I would make is to hold off on inserting the engine mount until after the boosters are mounted. That way you can stand the rocket on its end to ensure the booster bottoms are flush with the bottom of the main body tube.
The fins were quite unusual in that they were not balsa. Cardstock core with a "wrap" on either side. They are small and difficult to attach but if you use good glue and patience it's not that much of a problem.
Finishing:
Since there's no finishing involved unless you paint the nosecone(s), I didn't have any problems with that. I chose to leave the nosecone white on this version of the FLV.
Construction Rating: 4 out of 5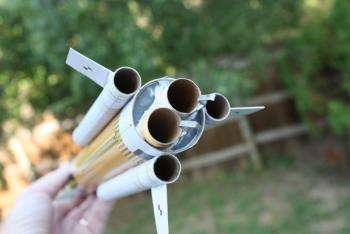 Flight:
For the first launch I loaded up the recommended B6-4 engine and let it rip. The flight was *very* low but straight up. It came down kind of hard and broke two fins. I think the parachute is very slightly undersized.
I didn't fly it again that day because of the fins, but I will fly it again soon.
Recovery:
I'd like to replace the parachute with a slightly larger one at this point. But with only one flight under my belt I'm not sure I can say with conviction this is what I'll do. I'll have to launch it a couple more times to make sure.
Flight Rating: 4 out of 5
Summary:
Overall I like the rocket. It was easy to build even with my inexperience with body wraps. Flies straight but be careful of the fins. They are not as sturdy as balsa.
Overall Rating: 4 out of 5
Other:
I learned I need more experience with body wraps. I didn't spray all the way to the edges so I ended up using white glue to fill in some of the "loose" edges of the wraps.