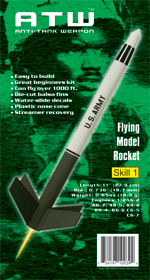 Brief:
The ATW - Anti-Tank Weapon is a military styled, minimum diameter 18mm rocket. Capable of flying over 1000 feet according to the manufacturer. The fins are forward-swept, the nose cone is unique.
Construction:
Kit includes one thin paper body tube, 4 pre-cut long forward swept fin, nose cone and its insert, water-slide decals, and other parts.
Instructions were easy to follow, quite like Estes's, but printed on less paper. There were no assembly problems.
The fins are pre-cut for you, but the edges have to be sanded anyway as they are quite rough and then you round the edges. These fins are forward swept and long; the fin span is almost 6 inches. As the body tube is thin, this fact may cause problems with the large fins. You might want to insert a spent engine when storing this rocket.
The nose cone is quite cool. One can call it a "bent conical". You have to see it to know what it looks like.
PROs: easy build, unique nose cone and fins.
CONs: thin body tube in conjunction with long fins
Finishing:
One has to seal the fins, prime and paint. The body tube spiral is very small, so you don't really have to fill it. The lower 1/3 section of the body tube and fins are painted green, the upper 2/3 section (and the NC) is painted white. Then the water slide decals are applied. This is where I messed up. I think the self adhesive ones are slightly better because they are thicker. Others may disagree.
Pros: easy to paint stock, spiral hard to see.
Cons: none
Construction Rating: 4 out of 5
Flight:
This is another rocket that is supposed to make the most of a C6-7, which means it's supposed to fly really high. The motor is friction fitted.
I used two sheets of wadding (each split in half). The streamer is rolled, and everything is stuffed into the body tube.
First flight was on a 1/2A3-2T with an adapter. It flew straight to about 120 feet and popped the streamer at apogee. Pretty good, if you ask me.
Second flight was on a B4-4. This is a proper motor for this rocket. The model boosted straight and stayed out of sight for a few seconds, and then the ejection charge went off. It landed about 200 feet from the pad.
The ATW is a pretty good flier, and has more style than the Estes or Quest minimum diameter kits. You better believe Custom Rockets--it can fly over 1000 feet.
Pros: stylish, high altitude flier, can take smaller motors
Cons: none
Recovery:
I used a two foot piece of elastic that is attached with a paper mount. Recovery is fast with the streamer, but this is a light rocket. After two flights, the shock cord is a bit charred. Kevlar® would be nice.
Pros: doesn't drift much on streamer
Cons: shock cord gets burned easily
Flight Rating: 4 out of 5
Summary:
I think this is a good rocket for a minimum diameter kit: looks cool with unique fins and NC. At $5, it's a good deal. (Compare that to the Estes Sizzler or Star Dart, which cost about $8) Nice work on this small kit, Custom.
Major pros: priced right, unique rocket, high flier
Major cons: none
Overall Rating: 4 out of 5