Estes - Python
(
Contributed
- by Eric Fletcher)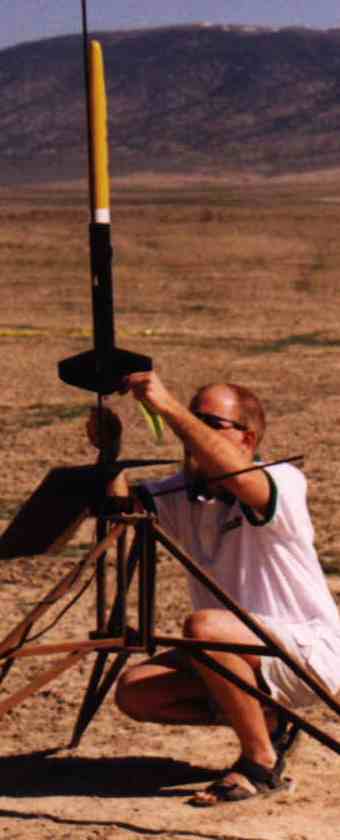 Brief
Model has been modified to use G80-10.
Modifications
I had to make new centering rings out of 1/4" plywood. I also added steel wool above the motor mount so I would not have to use wadding. I also had to cut some of the fin off because it is a through the wall fin designed for 24mm motor mount.
I did not add any nose weight. The parachute goes into the nose instead of the motor section.
For the baffle, I put the plastic bulkhead on the motor side and the steel wool is epoxied to this. I put the steel wool up through the motor tube after the rocket was complete.
Construction
Quality was really good. I did not use the instructions. Was very easy to build. The line where the fins go together was kind of hard to get out because the fins were plastic. and they scratched easily, even using 320grit and bondo filler.
Flight
Recommended D's with the 24mm, I used G80-10W. With steel wool I do not have to use wadding. Motor retention is the supplied motor clip spring. It flew pretty straight but corkscrewed a little at about 100'. The first flight the motor kicked out of the rocket and it took a little while to come down. I bent the clip and the second and third flights did not eject the motor. and the rocket came down a lot quicker.
Also on the first flight it landed on a paved road and bent the corner of one of the fins. I sanded all rear points rounded.
I have flown it 3 times on G80-10's. And once on an F50. It flies great.
Summary
This was a really good kit. I saw on shoot on a D and ejected perfectly at apogee. I personally do not like rockets that separate in the middle unless you use a parachute or streamer for each half.