(
Contributed
- by Doug Szczepanski - 07/09/06)
Brief:
Parachute cup modification.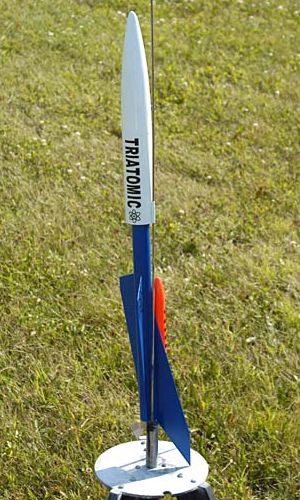 Modifications:
I had already epoxied the plywood bulkhead in place when I read of some of the problems with the parachute cup releasing from the upper rocket.
Take a Rotozip tool (or use a similar cutting method) with a wood cutting bit and cut a hole in the bulkhead leaving ~1/4" lip. This will allow the parachute cup to be reversed and have it clear the screw eye and let it rest firmly against the nose cone. The 1/4" lip will provide for packing the front of the cup with shock cord and Kevlar® without it popping out before placing it into the upper rocket.
Run the shock cord with the split ring through the hole in the parachute cup bulkhead and out the rear of the parachute cup. Attach the Nomex® blanket to the lower rocket Kevlar® then attach the Kevlar® to the swivel and the swivel to the split ring. Attach the parachute to the swivel at the split ring.
Pack the parachute cup with the Nomex® blanket protecting it from the rear. Pack the shock cord and Kevlar® from the upper rocket into the front of the cup. Slide the packed parachute cup into the upper rocket firmly until it rests against the nose cone. Insert the lower rocket into the upper rocket, packing the excess lower rocket Kevlar® back into the lower rocket body tube.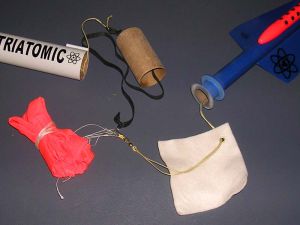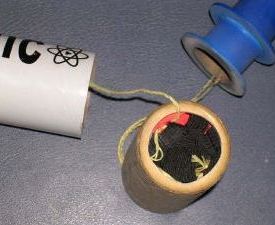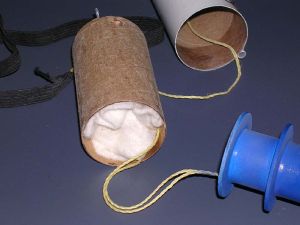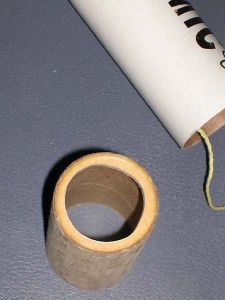 Construction:
The only extra materials used was a 4" x 4" Nomex® blanket and a Rotozip tool.
PRO: This was a very easy fix for the parachute cup problems reported by builders. It was tested, is reliable, and only took about 5 minutes to complete.
CON: You must have or purchase a 4" x 4" Nomex® blanket.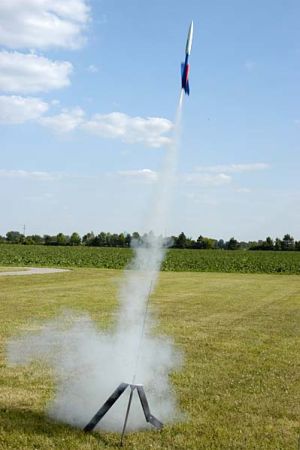 Flight:
PRO: The method was dry tested and worked perfectly when pulling the two rocket halves apart by hand. Flight testing also provided an excellent ejection of the parachute at apogee, as the chute fully opened as expected.
Recovery:
An 18" nylon chute was used instead of the supplied mylar chute.