Brief:
This rocket is part of my entry in the Family Photo contest. My "family" is homages to the venerable Der Red Max. This variant is an unholy combination of the Der Red Max and the LOC/Precision Viper III.
Construction:
My primary components were: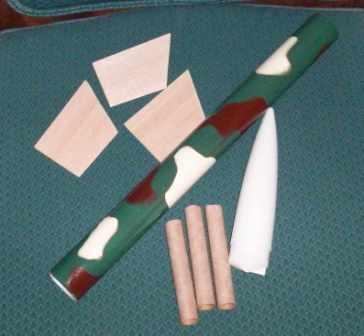 BT-60 about 16" – This is from another rocket that suffered a devastating crash.
PNC-60.
3 BT-20 about 5" for motor mounts.
3 Red Max fins. I extended the leading and trailing edges about ¼ inch to compensate for the fins recessed between the motor mounts.
Elastic shock cord.
Hartle Engineering 12" parachute.
This was a relatively simple and straightforward build. All of the construction was done with Elmer's wood glue.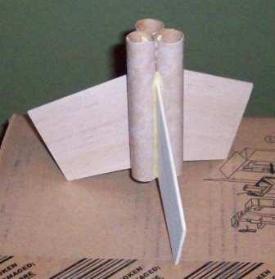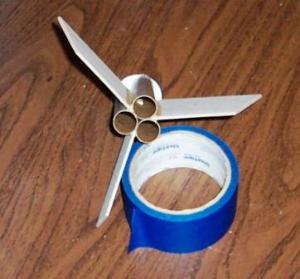 Finishing: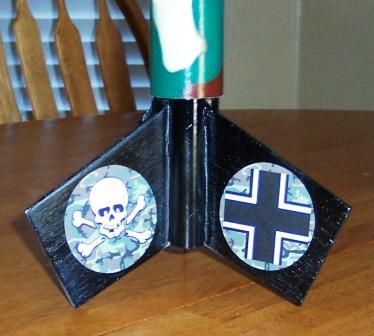 The main BT was already painted with a very simple camoflauge scheme. The fin unit was primed with gray Wal-Mart primer and then painted with Wal-Mart gloss black.
I decided to do something unique with the decals. I did some computer editing to place the skull and cross on a field of camo. They were printed on Avery label paper and sealed with Wal-Mart clear coat. I was happy with how they turned out.
Flight:
This rocket has flown just once so far on a 3xC6-5 combo. The flight was great – high and straight with the noise and smoke that make a cluster so entertaining.
Summary:
I really enjoyed this build. It added a new dimension to the erstwhile Der Red Max. And while not overly challenging, there is enough in the build and the clustered flight to keep any rocketeer interested.