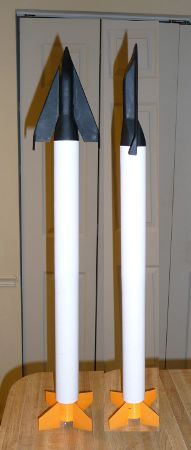 Brief:
This is a review of Gordon's Dyna-Soar nosecone kit. He describes it as 'goof' scale. Nevertheless, the cone looks awesome and I don't worry about scale points. Although he provides some application ideas, using this is on a stable model is up to the builder.
Construction:
This is a simple kit as you'd expect. It consists of the Dyna-Soar body, 2 wings, 2 stabilizers, a transition from the body to a BT-60 tube, a screw eye, and a decal sheet.
The parts come packaged with instructions (9 steps) and two sheets which provide drawings to show the placement of the decals, an outline and color scheme for the X-20/Titan-II, and some other concept drawings. The latter are merely simple views with no detail.
I found the transition didn't seem to mate all that well with the body, but the pre-formed angles made it easy to sand to fit. Gordon provides contact info if you have questions, but I just proceeded on my own. In a move that is certainly not the norm for me, I attached the parts before filling (built upstairs in front of the tube where sanding is taboo). As I was sanding, I got the feeling that the wings might be a bit flimsy to be on the tip of a cone that might end up being quite heavy to ensure a stable flight, so I added some extra fillets on the top and laminated the base with cardstock.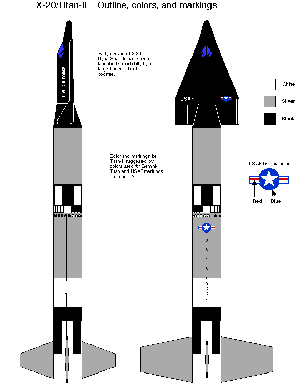 The last step recommends using this kit atop of a FlisKits Deuces Wild, an Estes Big Bertha, or an OOP Titan III. The final photos are atop of a in-process rocket that I'll eventually review. It's kind of a Titan variant.
Finishing:
I used PlastiKote primer and Rustoleum flat black paint. I was excited to get the decals on, then...you should imagine the sound of a record player scratching to a halt (younger readers may have to search this on Google). The quality of the decals are poor. Maybe people used to home made decals won't have a problem but, between folding over on themselves and breaking during alignment, I scrapped half of them. After I recovered emotionally, I scrounged some replacements (see detail above).
Summary:
PROs: The curved balsa surfaces of this kit are cool and would be hard to make yourself. Construction was straightforward.
CONs: The decals.
Overall Rating: 2 out of 5