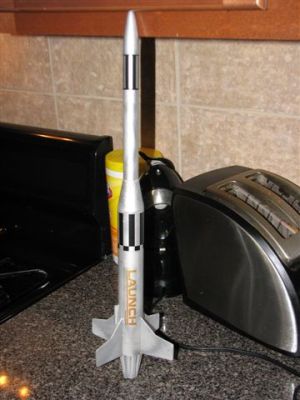 Brief:
This is a single stage rocket basically a BT-55 that transitions to a BT-20 with nose cone and four fins. This was a kit from Semroc, one of the best companies that I have ever bought supplies from. Semroc gave these kits as an incentive prior to NARCON. And the best part about this kit it was made in the United States of America
Construction:
These are Semroc part numbers: BC-720 nose cone, BR-713 reducer, ST-760 and ST-1380 (body tubes which basically are a BT-55 and BT-20), BT730E engine mount tube, CR-KN-4 (center ring and flutes for the tail decoration), FN-4 laser cut fins, and the regular stuff: screw eye, launch lug, Kevlar® thread and elastic cord combo, and decals.
Instructions were easy to follow thanks to the good graphics. It took me about 2hrs to complete the kit. I did this kit in sections. First the engine mount, then the reducer, BT-720, and nose cone. I put a light coat of wood glue and water mix on my balsa parts then stuck everything together. I added a 1/2oz of clay to nose cone just in case I put in a D18mm engine. I also used a 3/16" launch lug instead of the one supplied because we hardly ever use 1/8" rods.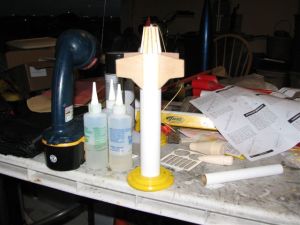 Finishing:
I started with some gray primer then two coats of Rustoleum metallic silver. This is the best paint on the market that you can buy off the shelf. It gives a beautiful finish but you have to be careful to use a base coat otherwise the material will absorb the gloss. I used all the decals except the one that went over the fins. They were a little too small for my hands and I couldn't find those darn tweezers. Pros were it is a snap to build.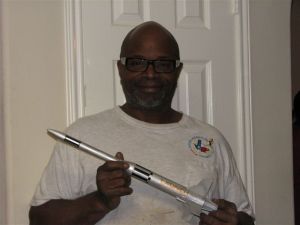 Construction Rating: 5 out of 5
Flight:
Flights were great on two B6-4s then I used a C6-5. The chute got a little tangled but every thing came out OK. I used about 2 inches of dog barf wadding. Put the engine in with the engine holder holding the engine in securely. Put that baby on the pad after the rain stopped and whoosh it was gone.
Recovery:
The recovery was OK for the first two flights. Then the chute got fouled on the third flight. The kit uses a combo of Kevlar® and elastic.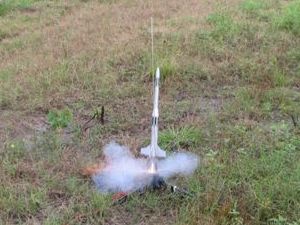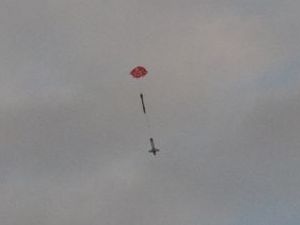 Flight Rating: 5 out of 5
Summary:
This is a easy to build kit that flies great. I almost built it with a ring fin. Maybe I'll do that later.
Overall Rating: 5 out of 5