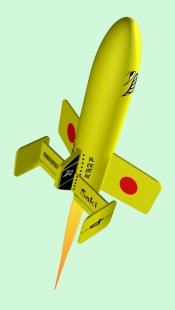 Brief:
A single-stage LPR kit, one of the "Groonie" line from SEMROC. Designed to bear a resemblance to the WWII Japanese "Ohka" kamikaze plane.
Construction:
1 Balsa nose cone, 2 body tubes [one being the motor mount tube], 1 centering ring set, 1 laser-cut balsa fin set, 1 thrust ring, 1 motor hook, 1 Kevlar thread/elastic cord shock cord, clay nose weight, 1 plywood disc, 1 screw eye, 1 12-inch plastic chute kt, and 1 decal set.
The instructions were the standard high SEMROC quality, being very easy to follow and with an exploded-view of the model included. All parts were high caliber, making the actual build a breeze. Ii used yellow aliphatic resin glue throughout with one exception and was able to complete construction in one afternoon. The nose weight set-up was unique to me. The base of the balsa nose cone is pre-hollowed out for a depth of about an inch or so. The clay included in the kit is rolled into a cylinder and inserted into the cavity. The plywood disk with the screw eye threaded into it is then glued into the hole, holding in the clay. This was the one area where I used epoxy.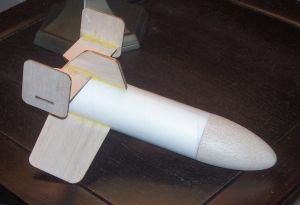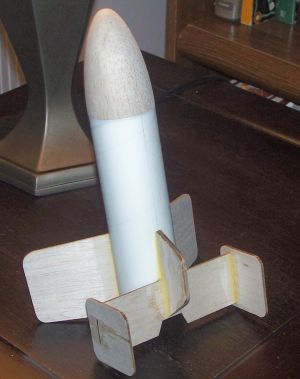 Finishing:
There are some odd body tube/balsa attachment point angles on the Saki, which led me to fear some balsa filling problems. I shouldn't have worried, as there were no problems. The same goes for painting. Fear not, spray away. I was tempted to use a dark green over sea grey color scheme like many Japanese aircraft of the Pacific War were painted, but in the end I stuck with the kit color (yellow).
Construction Rating: 5 out of 5
Flight:
For the first flight of the Saki, I chose an Estes C6-5. I prepped the model in the usual manner, including the kit parachute on which I had installed a snap swivel. In the future, I might go with a larger chute, too, maybe an 18-inch one.
Recovery:
The boost was very fast and surprisingly straight, considering all of the balsa hanging off of the Saki at weird angles. At apogee, she just arced over and...what? No chute? Well, there had been one, but the added weight of the nose cone caused the swivel to open up. The chute went one way, the model another. No problem though as the Saki tumbled in and landed in some high grass. The model suffered no damage whatsoever. I wish I could say the same for my pride! Lesson learned. Lose the swivel next time and attach the shroud lines right to the model.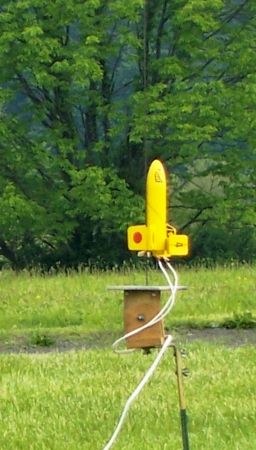 Flight Rating: 4 out of 5
Summary:
The Saki was my first venture into Groonie-land (or is it Groonie-ism?), and it was a fun, easy build.
Overall Rating: 4 out of 5