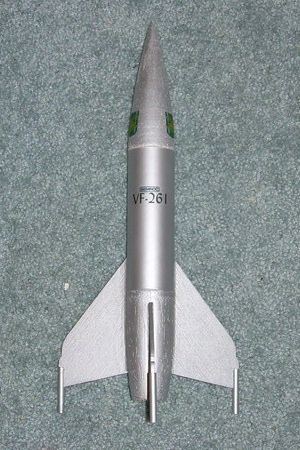 Brief:
This is a cool retro style rocket that is sure to please everyone with its looks and flying.
Construction:
If you like quality balsa parts, this kit has it. Here is what the VF-261 comes with:
Balsa nose cone
BT-55 tube
Balsa tail cone
18mm motor tube
Laser cut fins
Engine block
Screw eye
Plywood block
4 launch lugs
Clay
Kevlar® cord
Shock cord
Plastic chute
Tape discs
Shroud lines
Water slide decals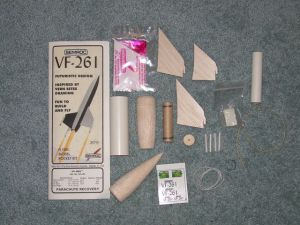 Everything came nicely in the bag undamaged.
As usual, Semroc put together easy to read instructions. Nothing was unclear or hard to follow. The only possible complaint I have is the fin marking guide. I didn't have trouble with it, but I could see how others may have a hard time holding the tube steady enough to mark the lines perfectly.
The build was very easy. All of the parts fit well with no sanding. Working with balsa is way better than plastic in my opinion so this build was a blast. Another plus with Semroc kits is that they supply every rocket with Kevlar® cord and a nice length of shock cord.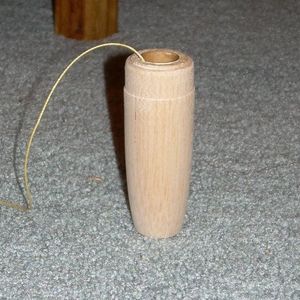 Finishing:
Finishing was basic. I only used one coat of sanding sealer for it. I probably should have used another coat or two, but it's lighter this way. After the sealer dried, it was all sanded down and ready for painting. My brother picked out some Testor's silver paint so that is what I used. My brother also put the decals on and he had no trouble with those.
Construction Rating: 4 out of 5
Flight:
Well we waited for a good day to launch the VF-261. I wasn't 100% sure how it would fly due to the airplane appearance. The winds were around 5mph so I loaded it with the A8-3. The flight was nice and low with just a tad bit of spin. Next up was the B6-4. This sent it up quite a bit higher and once again had a nice straight up launch with just a little spin. Due to its size, it won't be flying on the C6 anytime soon. Most people will be satisfied with the performance on As and Bs though.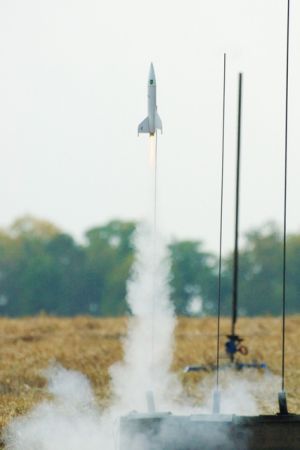 Recovery:
The first flight recovery went well. The second one didn't look good at first but turned out fine in the end. The chute didn't open until about 30-40ft off the ground. It landed undamaged and is ready to go again. I'm not a fan of plastic chutes though so this may get upgraded to nylon chute eventually.
Flight Rating: 3 out of 5
Summary:
Semroc produces a cool looking design that flies well too. I wouldn't change anything except maybe the plastic chute. I may have to upscale this sucker because it would look much better in bigger form.
Overall Rating: 4 out of 5