Construction Rating:






Flight Rating:






Overall Rating:





Contributed by Bill Eichelberger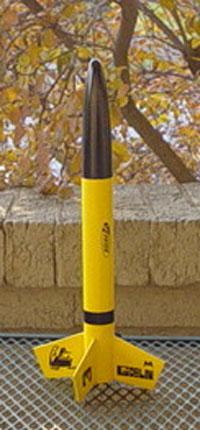 Brief:
By t' early '70s, t' Estes catalog had expanded from its Astron roots t' t' point that it pretty well covered t' whole range o' t' model rocketry spectrum. T' available rockets ranged from unique scale birds such as t' Pershin' 1A and t' Nike-Ajax, matey, t' now legendary futuristic kits like t' Orbital Transport, Interceptor and Mars Lander. Another segment that Estes began t' concentrate on around this time was t' basic 3 and 4 fin and cone design with t' slightly cartoonish theme like t' Scamp, t' wildly politically incorrect Der Red Max, arrr, and me favorite 24mm jaw-dropper, t' Goblin. Blimey! Actually offered as a bonus kit (an award for purchases totalin' a certain amount,) at one point in it's lifetime, t' Goblin would eventually make a name for itself as an impressive performer due t' it's small size in relation t' it's big engine capability. Simple in both construction and graphics, ya bilge rat, t' Goblin is a clonin' project that attracts attention both on and off t' pads.
Read t' rest o' t' review ...