Contributed by Brian Ray
(
Contributed
- by Brian Ray - 01/14/09)
Brief:
This is a two-staged downscale of the venerable Estes classic Der Red Max.
Construction:
Sustainer Parts List:
1 BT-55, 8.5"
1 PNC-56
1 BT-20, 2.75"
1 Engine Block, 18mm
2 Cardboard Centering Rings
1 Elastic Shock Cord, 30"
1 Streamer
1 Launch Lug
1 Set Der Red Max Fins scaled to 81% of original, 3/32" balsa
Booster Parts List:
1 BT-55, 2.75"
1 BT-20, 2.75"
2 Cardboard Centering Rings
1 Set Der Red Max Fins scaled to 86.25% of original, 3/32" balsa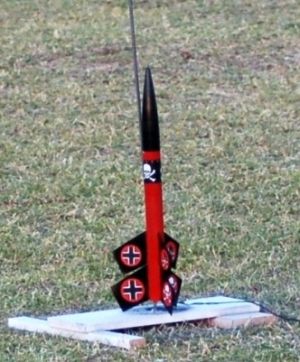 The construction of this rocket is very straightforward, just like the original. I did take extra care, however, to ensure that the alignment between the sustainer and booster was sound. Also, I used a PNC-56 nose cone instead of -55 because that was what I happened to have at the time and because in my mind it resembled the original most closely. I had to sand down the NC shoulder a bit in order to make it fit.
Finishing:
I finished the rocket with Wal-Mart spray paints. Using WM gray I primed and sanded several times. The BT was painted with WM red and the fins and NC with WM black (I figured that since rocket was different in other ways I may as well make the fins different too.) I printed the decals on white label paper and applied several coats of WM clear coat.
Flight and Recovery:
This rocket has flown twice, both times with a C6-0 to C6-5 combination, the engines taped together with cellophane tape. Each flight was great and recovery was without damage or incident--although one required quite a walk because of the altitude/drift combination.
Summary:
I really like this rocket. I have always been a fan of Der Red Max and staging, and this is a fun combination of the two. It is quick and easy to build and it flies like a champion.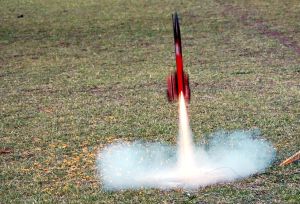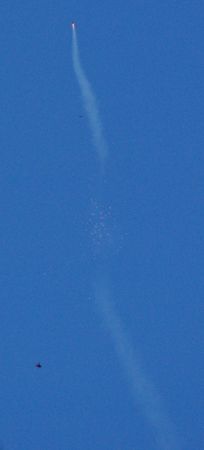 Browse our database of about 4,300 reviews of rocketry kits and other products.