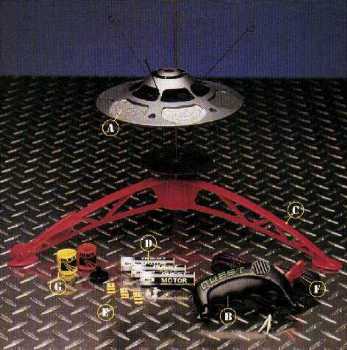 This is another complete ready to go rocket with pad etc. . . again pad [stunk] but I got another one of those launchers.
About the pad; take an Estes' Pad and make it look like the picture. Okay, now remove the screw in launch rod mount . . . it just sits in there. No secured angle adjustment either. It is by a measly leg swivel that props up one leg like sticking a rock under a leg. Now, to make it worse, make the plastic lots and lots of times thinner . . . to the point of a wrong twist cracking a leg.
Now the Launcher on the other hand is cool. It is an ergonomic hand grip with the red tab safety key on top. When you plug it in, it lights up and it makes noise to show continuity. (Cool) And the 9V battery has plenty of kick.
This ship is VERY COOL it is a BLAST to watch fly even though it does not go very high. You can NEVER get enough of it. You can NEVER get enough of it. I fly on C engine ONLY. It does NOT go very high and B's would be plain boring.
The U. F. O. is made of all plastic with decals already in place, and the launch lug are just molded holes on top and bottom of motor tube (all plastic) in the center. The plastic hook are little hooks that hold the three metal legs in place. There are two hooks for each leg and they tend to break on landing. Not that big of a deal, really just a nitpick of mine.
Construction was, well, EASY although the legs can be confusing (not difficult) to get in and the little plastic hooks tend to break so I personally would epoxy the legs joints.
Recovery - it falls and bounces on it legs and usually on FLAT ground will flip back right side up. I also like to fly on C6-3 for on the way down it fires the ejection charge like retro thrusters. I have flown about a dozen times and it flies flawlessly every time. I want to get an apogee D10 and see how that does, but at $7. 50 a pop I am not to sure!
The whole kit was only $20 WELL worth it !
Construction - EASY nothing to do except those legs I would say 4. 9 out of 5.
Performance - 5 out of 5 without question.