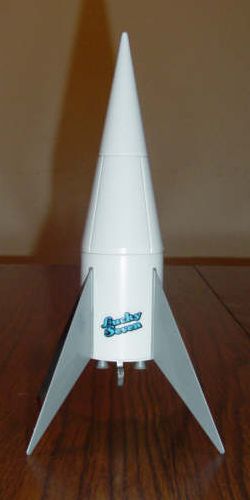 Brief:
The Estes X-Prize Lucky Seven is a 1:50 scale model of Acceleration Engineering's Ansari X-Prize entry. This model flies on an A10-3T motor up to 200 feet and uses a 12 inch parachute for recovery.
Construction:
The kit came in a plastic bag with header card and included:
1 motor tube
1 motor retention hook
1 pack of clay weight
1 rubber shock cord
1 12 inch plastic parachute
1 plastic parts set that included:
2 nose cone halves
1 nose cone cap
1 body base
1 plastic parts set that included:
4 fins
4 nozzles
1 plastic body tube
1 set of peel and stick decal sheet
The instructions for this kit are the typical Estes documentation that included lots of text and illustrations. No templates or shock cord mount is included as none are needed. Since this is an E2X series kit, I found it very easy to assemble and had it put together in about 30-45 minutes. To build this kit, you need an X-Acto knife, plastic cement, masking tape, and #400-600 grit sandpaper.
I started by differing from the instructions a bit and tied the shock cord into place at this time as I found it much easier to do this without the fins on. I then assembled the motor mount into the body. No glue is needed for this step or the next one. I slid each fin into place in the body. I then glued the nozzles into place on the body base. After the cement dried, I glued it into the body. This is what holds everything together and if you use plastic cement, I suppose you could pop the base loose if you ever needed to replace a fin.
I now assembled the nose cone by gluing the cap into place and tied on the shock cord. I then cut the clay block in half and inserted each piece into the nose cone halves. I glued the nose cone together and used masking tape to hold it together until the plastic cement dried. I tied the parachute in place to finish the assembly.
PROs: Builds fast and simple.
CONs: None.
Finishing:
The only finishing this rocket requires is applying the decals as all the parts are pre-colored white and silver. I do recommend that you wash your hands before applying the decals to avoid getting clay on them. The finished model looked very cute and surprisingly realistic. I feel it would make an excellent model to display on your desk.
PROs: No painting required.
CONs: None.
Construction Rating: 5 out of 5
Flight:
The only recommended motor for this rocket is the A10-3T 13mm mini motor. This rocket does require recovery wadding and the motor hook holds the motor in place during flight.
I prepped the model by inserting about two sheets of recovery wadding into the body. I also prepped an A10-3T and inserted a small piece of wadding into the motor above the ejection cap to take the brunt of the ejection charge blast.
The rocket lifted off rather slowly, arched slightly, and reached maybe 150-200 feet. I noticed a slight wobbling motion but maybe it was caused by the wind. This is a great rocket for small fields.
PROs: Flies great, low altitude flights.
CONs: None.
Recovery:
This rocket uses a 12 inch parachute for recovery and if it is attached where the instructions suggest, the nose cone should not come into contact with the fins.
The chute is sized correctly for this rocket and it comes down with the nose cone hanging underneath it so that it lands nose cone first and then the body will settle to the ground under the chute. Fin damage should not be an issue because of this. The rubber shock cord also stood up well as there was no scorching noticed.
PROs: Recovers quickly and easily.
CONs: None.
Flight Rating: 5 out of 5
Summary:
I really liked this rocket. I found it to be an easy to assemble scale model that also turned out to be a nice little flier. I would highly recommend it especially if you don't have a lot of flying space. At about $7.59, I feel it is a great value.
PROs: Easy and quick assembly, nice flight and recovery characteristics, great price.
CONS: None really.
Overall Rating: 5 out of 5