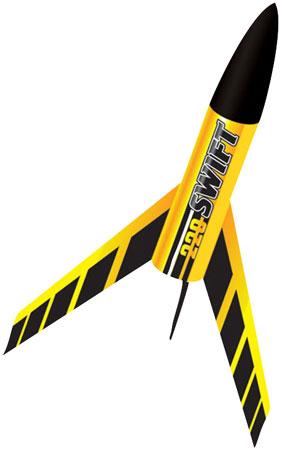 Brief:
This is a new 2004 release kit by Estes. It is a small and sleek 4 1/2 inch tall rocket that flies on mini motors up to 750 feet and uses tumble recovery.
Construction:
The kit came in a plastic bag and included two 1/16 balsa strips for fins, body tube, nose cone, launch lug and decals.
The instructions for this kit included the fin template as you need to cut them out yourself from the balsa strips provided. Also included in the instructions was the fin marking guide.
This is a skill level 1 kit and was very easy to assemble. I had it built and ready for finishing in about an hour.
I started by cutting out the fin template from the instructions, traced it onto the fin stock and cut out the three fins. You may notice that there is enough scrap left over to make another fin if necessary. I then sanded the fins and prepared them to be mounted onto the body tube.
I then mounted the fins one at a time to the body tube as directed. You may want to go with Estes' recommendation to put a thin film of glue on the root edge, let it dry for a minute or so then apply another film then attach. Trust me, it works.
I then applied the launch lug next to one of the fins. After it dried, I applied generous fillets to the fins and launch lug for strength.
The instructions call for the nose cone to be glued into place at this time but I waited to glue it on after it was painted.
PROS: Easy and quick assembly.
CONS: None
Finishing:
To finish the rocket, I started by spraying on a coat of Ace brand white primer, sanded and applied another coat and sanded and for the color coats, I copied the color scheme on the header card by painting the rocket body with gloss yellow enamel and the nose cone with gloss black enamel.
After the paint dried, I glued the nose cone into place and applied the provided peel and stick decals to finish the model. An optional step was to apply clear spray enamel but I decided to pass.
PROS: Easy color scheme to copy.
CONS: None
Construction Rating: 5 out of 5
Flight:
The recommended motors for this kit is the 1/4A3-3T, 1/2A3-4T, A3-4T, A10-3T, all Estes 13mm mini motors and they are friction fitted.
To prep this little model for flight, you prep the motor and slide it into place, you probably won't need any tape. I didn't anyway.
For my flight, I used a 1/4A3-3T and the rocket zipped off the pad straight and fast, arched over and popped the motor casing. Unfortunately, I never saw the rocket falling but I knew it had burrowed into tall grass because that's where it was heading. I wasn't able to recover it which was a bummer, as I would have liked to have recovered this one as it was a neat looking rocket.
PROS: Flies great
CONS: Easy to lose but that's typical of rockets like this.
Recovery:
This rocket uses tumble recovery but from previous experience with Mosquitos and Quarks, it comes down nose first and sticks into the ground so be sure to launch with caution.
PROS: Recovers easily if you can track it.
CONS: Doesn't tumble as advertised.
Flight Rating: 4 out of 5
Summary:
I really liked this rocket. It was easy to assemble and looked great and I was sorry to lose it on the first flight, but since these things are fairly inexpensive (about $3.19 each), I've already bought another one. I recommend buying about two or three of these at a time.
Main PROS: Easy and quick construction, nice finished appearance and flight performance.
Main CONS: The recovery issues--primarily the lawn dart recovery.
Overall Rating: 4 out of 5