Brief:
This is a entry-level, two-stage ro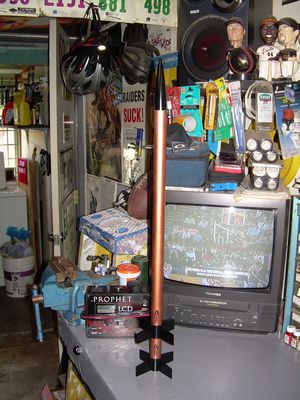 cket with parachute recovery.
Construction:
The kit is a basic two-stage consisting of upper and lower body tubes, nose cone, molded plastic fins, and a basic recovery system.
Construction was easy, but once again I had to tweak it! I heard that the upper and lower tubes around the motor mounts was weak so instead of centering rings, I filled the upper and lower tubes with a solid piece of tubing. I also used epoxy to construct this rocket. I used 1/8" Kevlar shock cord and an 8" nylon X-chute. No cons anymore!
Finishing:
It was super easy to paint. After motor mounts were glued in I primed all parts with BIN primer. I then applied three coats of Rustoleum metallic copper to the body tubes followed by two coats of high gloss black to the fins. No cons here.
Construction Rating: 4 out of 5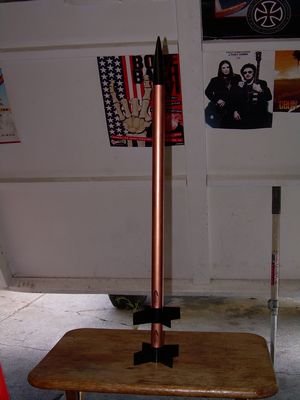 Flight:
The two motors were taped together and inserted into body tube. I used two pieces of 1" Nomex cloth instead of wadding. For all three flights I used a C6-0 and a C6-7. The first flight weathercocked at 300' and went horizontal. The next 2 flights were perfect at about 1000'. No cons after a few minor alignment issues.
Recovery:
1/8" Kevlar shock cord with 1" dual Nomex shields and an 8" Top Flight X-form 'chute followed by a solid lower-stage made for lots of fun.
Flight Rating: 5 out of 5
Summary:
If you follow other people's suggestions on this site before you build this or any other rocket there will be nothing but pros.
Overall Rating: 5 out of 5