Brief:
This review is for the 2010 EMRR Challenge "Two on One" review.
Duane Boldt and Alan Boldt contributed to this review.
Alan:
This 26.5" 2-stage rocket is purple and yellow with cool decals. It is easy to build and there are not many parts. The Mongoose has plastic, one-piece fin units on both the booster and sustainer.
Construction:
Components:
1 - 18" Purple body tube
1 - 2" Purple booster body tube
1 - Yellow nose cone (50YR)
1 - Nose cone adapter
2 - Plastic fin units
3 - Green adapter rings
2 - Gray engine block rings
1 - 1/8" x 24" elastic shock cord
2 - 2.75" blue engine mount tubes
1 - Yellow reinforcement ring
1 - 1/8" launch lug
1 - 12" plastic parachute
1 - Green adapter ring
1 - Sheet of self-stick decals
1 - Folded sheet of instructions
Duane:
PROS: This kit makes a nice fast kit to build with school classrooms or school rocketry clubs. It is long enough to satisfy the 24"+ requireement for the NARTREK Cadet Mercury Level and also to fly the multi-stage flight in the later Cadet level. It was easy for us to build completely with thick CA glue.
Alan:
CONS: The only two cons are that the body tubes are not very strong and can be crushed if you are not careful. Also, if you break any of the plastic fin sets, they are difficult to repair. Most glues, even plastic cements, don't work well on them.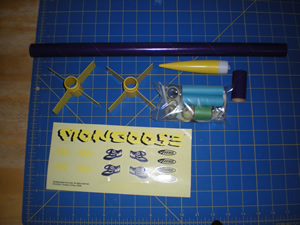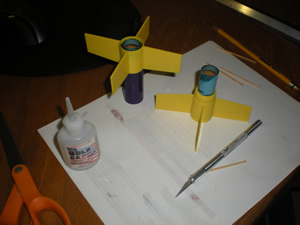 Duane:
The instuctions are typical Estes instructions and are easy to follow. We were building ours with a group of students and used thick CA glue from JonRocket.com to speed things up. Since we used the CA, we were having to wait for the glue to dry more than 10-15 seconds before moving on to the next step.
1. The booster is assembled with the short purple body tube, and engine tube, engine block ring and an adapter tube.
2. The upper stage involved a similar process with the longer purple body tube and similar parts.
** One thing you need to be careful of is glueing the engline block ring in the correct position in the booster and sustainer. It goes to the behind where the motor will be in the booster and forward of the motor space in the sustainer. We had to "undo" one or two of the engine block rings. Just follow the instructions and you will be fine.
3. We marked the line for the launch lugs before installing the sustainer motor mount/fin assembly. Then glued in the motor assembly into the sustainer body tube.
4. We marked for the launch lug possitions along the line drawn in step 3 and then scraped just a little paint off the tube at the marks. We then glued on the launch lugs.
5. We also used CA to glue the nose cone parts together,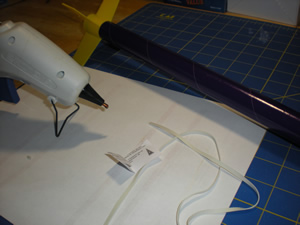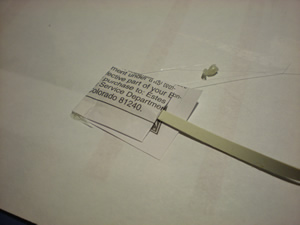 6. We actually used a hot glue gun for the attaching the "3-fold" shock cord mounts inside the body tube. This saves some mess and works well as long as you glue it good and while the glue is still hot and liquid. (We have only ever had one come apart and that is when a rocket a much too short delay and the nose cone came off while it was still traveling very fast.)
7. The parachute was tied to the nose cone mattachment point along with the loose end of the shock cord.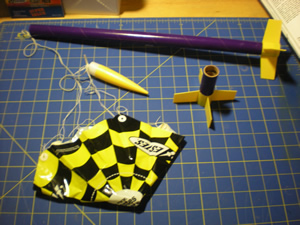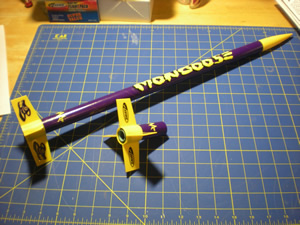 There you go. A very fast build in one short session even with a group of kids. The rocket performs well and as long as you do not crush the tubes, as Alan mentioned, the rocket wil make many successful flights.
Finishing: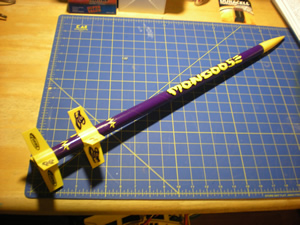 Duane:
There really isn't any finishing other than applying the decals. they are typical self-adhesive decals. The kids like them a lot and had fun putting them on. Not quite as nice as waterslide decals, but easy to apply.
Alan:
Construction Rating: 4 out of 5
Flight:
Duane:
We mostly flew B6-4 motors for single stage flights and B6-0 / B6-6 combos for two stage flights. The rocket performed great. The field we were lauching at is great for up to B motors. C's and multi-stage sometimes get devoured by the rocket eating trees or are carried by wind to a make some other lucky kid happy. Overall great performance on our flights.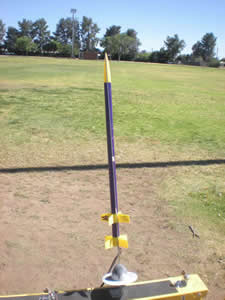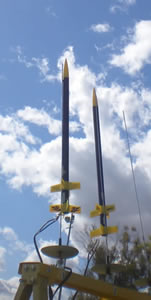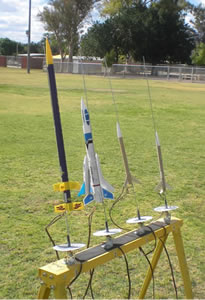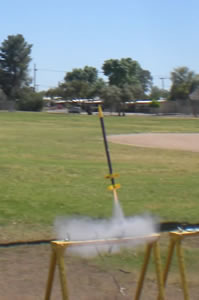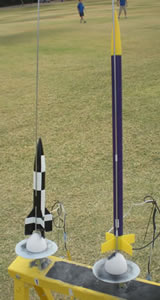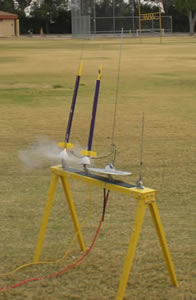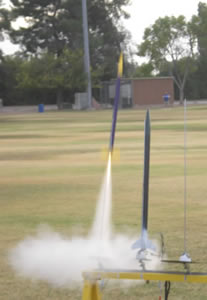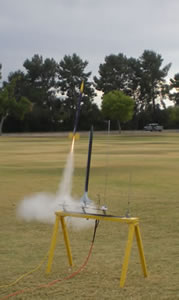 Recovery:
Alan:
PROS: Very easy to assemble parachute. No damage if packed correctly. Lands not to far from pad in low wind conditions.
CONS: The body tubes were kind of flimsy and sometimes were crumpled on landing, if parachute didn't deploy fully. One student, launching with us, did loose their sustainer on a multi-stage flight with too much wind.
Flight Rating: 5 out of 5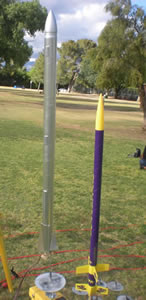 Summary:
Duane:
PROS: The Mongoose is a simple to build kit that works good for classroom building. It is easy enough that it can be built quick and with little hassle when working with larger numbers of kids. It also works for several of the NARTREK Cadet required flights including Level 1 build with plastic fins, 24"+, and Multi-Staged.
CONS: The tubes are a little flimsy and the paper can sometimes peel. Treat tube ends with thin CA before building to keep them from unraveling.
Overall Rating: 4 out of 5
Other:
Alan:
The Mongoose is a simple rocket to build and flies well.