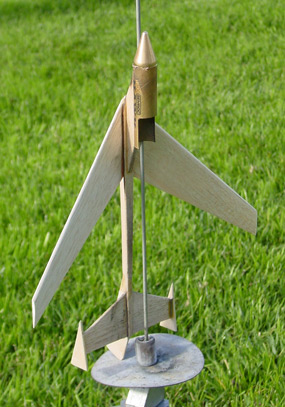 Brief:
Near reproduction of a boost glider (BG) kit from 1965 made by AMROCS. This is a forward motor BG which changes from boost to glide by ejecting the motor casing, shifting its CG to the rear for gliding flight.
Construction:
This kit contains:
(2) Balsa fin sheets - laser cut
Nose cone - Balsa
Motor mount 18mm
Launch lug
Decal
Construction was not difficult. The parts fit well together with a little sanding.
One thing was not clear and caused me a few moments of uncertainty was the two fuselage pieces are referred to as "halves." What is not made explicitly clear is that they are glued perpendicular to each other, not edge to edge. Rather than "halves," one could have been referred to as a "cross-piece" or "T-piece." A close inspection of the exploded drawing (which is great) does reveal this, but it is not, in my opinion, obvious enough.
I used a stationary belt sander to shape the airfoils on the wings. This went pretty well until I dropped one into the sander and ruined it. Luckily I had some identical balsa lying around and I made another wing.
Finishing:
For finishing I wanted to be as light as I could. All I did was sand everything down to 180 grit and paint the motor mount and nose cone gold. Then I applied the single decal to the side of the motor mount. Some of the sanding would have been better done before assembly but the instructions said to do it after, so I did. Some edges were impossible to round after assembly. Oh well.
It was nearly in trim before I painted the nose. Then it needed some tail weight. I was able to trim it out by gluing a small brad nail to a corner in the stabilizer section. It would glide smoothly with a little left turn on a hand toss.
Construction Rating: 4 out of 5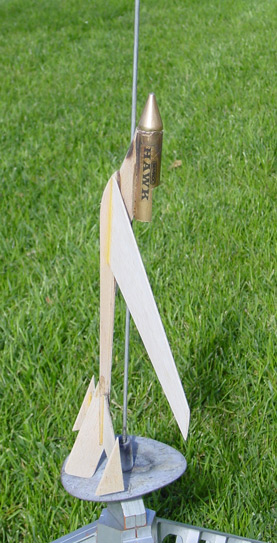 Flight:
My three flights were a tribulation. Let me say that I believe that this is a really cool kit, but that mine was a victim of excessive black powder ejection charges.
My first flight on an A8-3 looked good until it arced over, ejected and dove straight to the desert floor breaking off the tail section. Inspection showed the nose cone missing and the motor casing still in the motor mount.
After repairing the boom with epoxy and attaching a spare nose cone, I retrimmed the glider. Another A8-3 flight showed the same initial promise of a good boost. The ejection again occurred past apogee and this time the force of the ejection broke the boom just forward of the rear stabilizer assembly. Both pieces came fluttering to earth.
I finally got a glide on the third flight. This was a B4-2. It gave a very high boost - fairly straight up, thank goodness. The short delay had it ejecting while it still had some upward velocity and the boom did not break. The glide was a little steeper and not a long as I wanted, but that can be fixed for next time.
Recovery:
I do not recommend the A8-3 for this glider. The B4-2 worked well. With an appropriate adapter, a 13mm motor could be used. If so, I would use the 2 second delay.
Flight Rating: 3 out of 5
Summary:
This should be a solid performer. I believe the design is sound. I had a bad experience with the A8-3's. I would use the shortest delay possible. Epoxy the nose cone in place.
Overall Rating: 4 out of 5