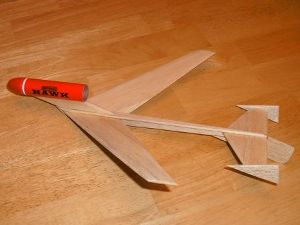 Brief:
This is Semroc's Retro-Repro kit of the 1965 AMROCS Hawk. It is a swept-wing boost-glider that uses motor ejection to change CG at apogee.
Construction:
The kit consists of a balsa nose cone, an 18mm motor tube, a launch lug, a waterslide decal, and two sheets of laser-cut balsa parts.
The instructions in this Semroc kit were well written, logical, and generously illustrated. Construction is very straightforward. The laser-cut parts are well produced, and go together very smoothly. I found it easiest to sand to shape and pre-seal the parts before assembly. The parts fit together very precisely, and the model built very straight and true. I was impressed with the quality of balsa used in the kit. It was very hard, but still light and free of any irregular grain. Truly some of the best balsa I have seen in a rocket kit.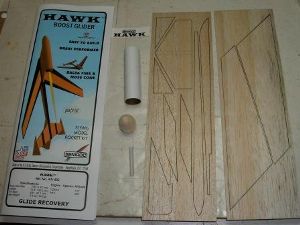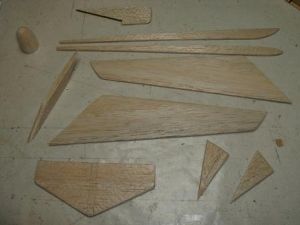 Finishing:
I sealed the balsa with a 50/50 solution of Titebond cement and water. I brushed this onto the shaped parts and let it dry overnight. The next day I sanded the surfaces smooth with 220 grit sandpaper. I did no additional finishing to the glider. My experience has been that this is the best finish for all-balsa gliders. Too much paint and smooth surfaces tend to make them glide like a brick. I added a few extra coats of the diluted glue to the nose-cone and painted the power-pod with Tamiya white primer and Red. Glide tests indicated that the nose-weight was needed and it was my hope that the bright red would be easier to spot on the ground. The waterslide decal went on without a hitch.
Construction Rating: 5 out of 5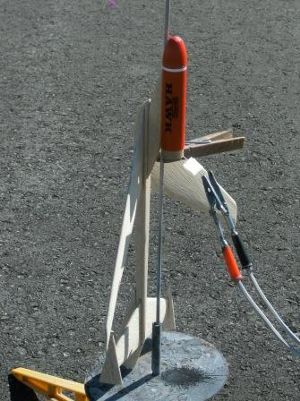 Flight:
Glide testing was surprisingly tricky. The model is very sensitive to slight changes in weight. As built, it stalled badly, but just a small amount of clay in the nose was all it needed to balance. The main problem I found was that I could not get the glider to turn at all. I tried steam-bending a wing or the tail, but it just refused to turn. I ended up putting a small bit of clay on one wingtip to get it to turn. I would recommend you build it with the rudders turned just 1/32nd of an inch to one side.
The recommeded motors are 1/2A6-2 and A8-3. I could not find a 1/2A motor so I flew it on an Estes A8-3 for the first flight. The Hawk jumped off the pad and flew in lazy circles until ejection. The kick from the motor caused it to loop and it flew with a slight stall on a long, gentle glide back. Recovery showed that a small chunk of the nose cone had popped off, perhaps from the force of ejection. This may have resulted in the stall.
I took a pinch of clay from the wingtip and placed it in the nose and flew it on a Quest A6-4. The height was good and it corkscrewed less, but the delay was too long and it was pointing down at ejection. The glide was very good and flat. Nice flight overall.
For the third flight I tried an Estes B6-4. Corkscrewed up but went nice and high. Ejection was hard to see, but seemed about right. It stalled again this time, and when recovered I found another chunk was missing from the nose. Perhaps some vent-holes are in order? The glider showed no other damage from the oversized motor, and I think it might be able to handle a C6-3, but I didn't try it.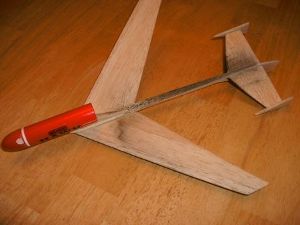 Recovery:
The motor ejection is a very big kick. The Edmonds CiCi uses a similar motor ejection, but has vent-holes near the nose. I think that might help. The swept-wings make this model very sensitive in balance and I think the chunks being lost from the nose were causing the stall. I think a slight turn built into the tail or wings would be advised. Overall, it was still a very impressive flier and stays up a long time on just an A. A very good performer.
Flight Rating: 4 out of 5
Summary:
This is a very good model at a very reasonable price. The materials are top-notch, and the laser-cutting makes it a breeze to assemble. The people that saw this fly were very impressed and liked to way it looked. The model develops a coating of ejection blast but otherwise held up pretty well. I thought it performed well for its type. If I built it again, I would build a turn into it and provide a vent hole in the engine tube to ease that kick at apogee.
Overall Rating: 4 out of 5