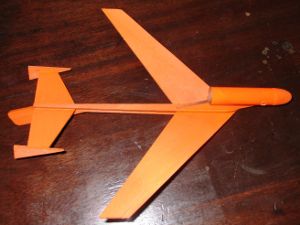 Brief:
A Retro-Repro production from 1965. The Hawk is a quick to build boost glider that ejects its motor and glides back down. Flies almost from the building board.
Construction:
Kit comes in a plastic bag and contains:
1 instruction booklet
2 3/32" balsa part sheets
1 BT-20 motor tube
1 Balsa nose cone
1 1/8" launch lug
1 Hawk decal
One of my balsa sheets was slightly crushed with one wing badly cracked probably due to transit.
The instructions are very clear and I built the model with CA gel in under 5 minutes.
The laser cut parts were perfect and I liked the little touches like the lines on the rear stabilizers.
After filleting with white glue, the glider is very strong.
Finishing:
I flew the hawk naked and without any airfoil. This was partly to see if everything was okay. She turned out to be nose heavy but only just.
I have now put a slight airfoil on the Hawk and then sprayed her a bright orange. Normally I don't spray gliders but this one performs well and a bit of correction mass on the rear helped with the balance. More importantly, my son has started flying with me now and he wanted it to be bright orange.
I am concerned that there is no vent hole in the motor tube.
Construction Rating: 4 out of 5
Flight and Recovery:
She flies really well. The boosts are straight and high--higher than I had expected. The shot gun ejection charge from an Estes A8-3 really shoots the Hawk forward into its glide phase.
She performs well in the glide although so far she does not want to do much in the way of a turn.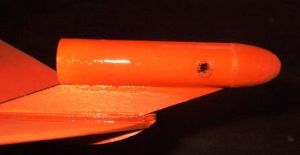 After seeing someone else's hawk come apart from an ejection charge, I have drilled a small vent into the motor mount tube.
Flight Rating: 3 out of 5
Summary:
A great boost glider, could become one of my favorites (but will never beat the Edmonds gliders).
I would heavily recommend a vent hole in the motor tube.
Overall Rating: 4 out of 5