Brief
Missile Toe was number three in my line of cloned Goonybirds that was built by kit bashing another Baby Bertha kit. As such the plans and decals were downloaded from Ye Old Rocket Plans (http://plans.rocketshoppe.com/estes/est0854/est0854.htm) and used for construction guide.
Components
From Baby Bertha kit:
1- BT-60 Body Tube (cut to 6" in length)
1- PNC-60 Nose Cone
1- Launch Lug
1- Engine Hook
1- Shock Cord
1- Assembled 12" Parachute
1- Mylar Retainer
1- Green Engine Block
1- Blue Engine Mount Tube
1- Centering Ring Card
From my stock pile:
1- 1/8" Sheet of Balsa (for cutting new fins)
1- Sheet Decals (printed on computer paper and cut out)
1- 2 1/2" BT-55 Tube
Construction
This was a by the book build except for the MM which was an 18mm instead of 13mm due to it being kit bashed from a Baby Bertha kit. The only Con: is that I know that the originals had a 5 1/2" BT but I went with 6" because of the longer Baby Bertha NC collar. I've read reviews from other builders that have cut the collar down but I prefer to just add a 1/2" in the length of the main body tube to make room for the recovery system.
Finishing
Finishing was a simple matter of spraying entire rocket with two light coats of Rust-Oleum 2x White Primmer with sanding between coats and then removing NC and giving the rest of the rocket two coats of Krylon Gloss White. NC got two coats of Krylon Short Cuts Hot Pink spray paint and fins were done in Krylon Gloss Black. Decals were printed on stock printer paper then coated with Krylon Clear spray paint and cut out and glued on with a glue stick.
I've had this rocket for several years now and it still doesn't have the black stripes for the bandage markings applied.
Construction Score: 4
Flight
Maiden flight was on 09-08-07 at Michigan International Speedway at a J.M.R.C. Club launch on a B6-4 and was picture perfect. Rocket left the pad straight up and very quickly reached a nice altitude with parachute being deployed just past apogee. No Cons:.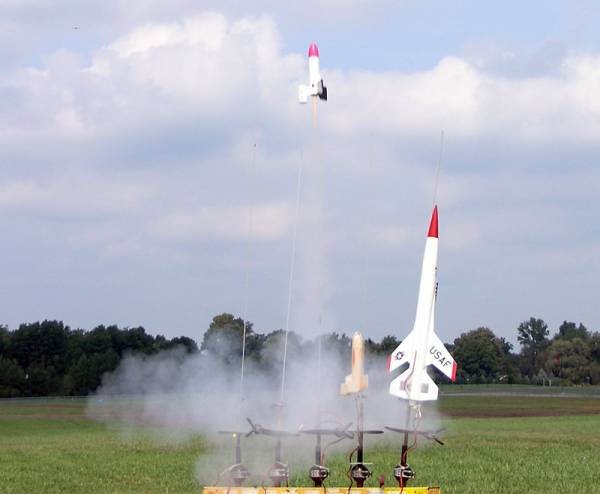 Recovery
Recovery was handled by the stock 12" parachute with rocket taking a hard landing (missed grass and landed on blacktop). I made the spill hole a little to large apparently as rocket came down a little to fast. Broke right fin but repairable. Will have to try next flight with a smaller spill hole or none at all as this is a fairly light weight rocket at only 1.6 oz.
Flight Rating: 4
Summary
Another cloned addition to my fleet of rockets that was both a simple and fun build.
Overall Rating: 4