Brief
For those of you following my Goonyness this is Baby Bertha kit bash #9. So OK this is not a kit review so much as it's actually another of my kit bashes. All fin patterns and decals came from http://www.spacemodeling.org/JimZ/estes/est1909.pdf.
The main difference is that mine is a Goony version of the USSF Fireflash (Estes Kit #1909). I'm only doing this review because no one has written a review for this marvelous rocket.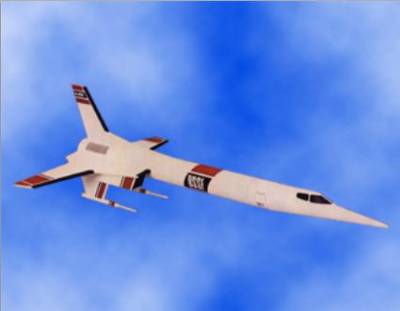 Original Estes USSF Fireflash (1909) [1983-1984]
Components
As stated this is a kit bash so the main components come from a Baby Bertha Kit. As a result this will be a BT-60 based rocket instead of the stock BT-50 tube.
From Baby Bertha kit:
1- BT-60 Body Tube
1- PNC-60 Nose Cone
1- Launch Lug
1- Engine Hook
1- Shock Cord
1- Assembled 12" Parachute (transparent orange plastic)
1- Mylar Retainer
1- Green Engine Block
1- Blue Engine Mount Tube
1- Centering Ring Card
Decals and wood from the Baby Bertha were placed in with my salvage materials and new wood was used to make all necessary parts for this build. Along with the new wood I also used two 2" long large incense sticks for parts 'I' and two extra launch lugs for parts 'G' in the instructions. The decals were printed on standard printer paper.
Construction
Construction for the most part was per directions. Step 1 saw the addition of paper coating being applied to all finished wood assemblies. Steps 2 & 3 were done as though I were building a Baby Bertha. Step 7 was slightly difficult as I didn't have a guide for the BT-60 body tube so had to make one. On Step 8 I forgot to glue on the lunch lug as I stared getting ahead of myself and proceeded with Steps 9, 10, & half of Step 11. Step 12 was skipped due to addition in Step 1. It was after Step 13 that the launch lug and ventral fin units were glue on as can be seen in the photo. Followed Steps 14-19 in order to finish the build. The only Con: was having to copy all the parts on to paper first then gluing the paper to new wood making sure wood grain matched patterns and then cutting out all parts with an Exacto knife and Hobby saw.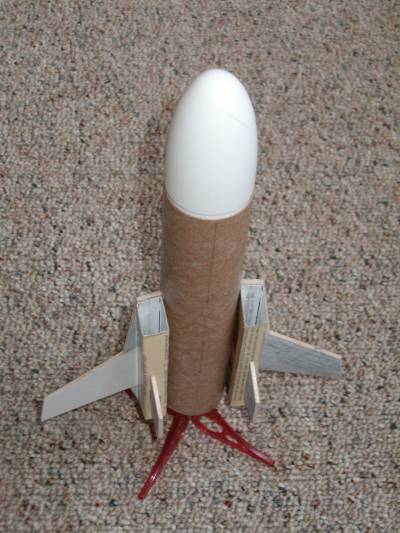 Still missing launch lug and ventral fin mountings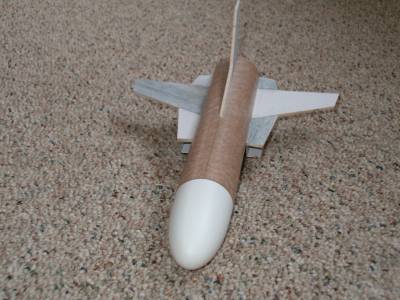 Goonyflash almost ready for primmer
Finishing
Painting was a snap. Shoot entire rocket with Rust-Olium 2x White Primer, sand, and hit it again with some more light primer followed by two coats of Krylon Gloss White. The only hard part was the Flat Black in the pod ends which I did with a small paint brush. The decal around the main BT had to be run through Windows Paint to stretch it in order to fit around the BT-60 tube but all others were printed out as is except for a slight color change. Decals were then clear coated and when dry cut out and attached with a glue stick. After making sure no decals were loose rocket was clear coated with Krylon Clear Gloss to seal decals.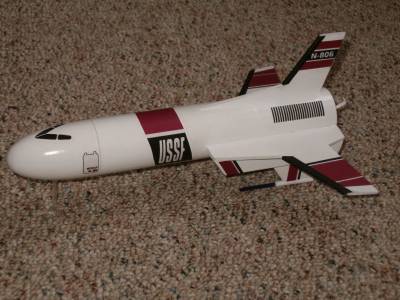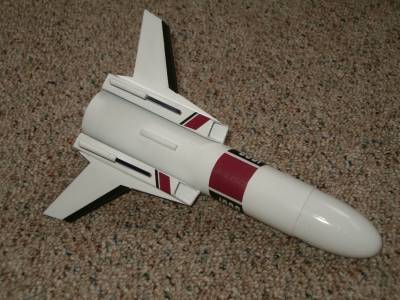 Krylon Clear Coat Applied
Construction Score: 5
Flight
Maiden flight took place on 06-19-10 at a S.M.A.S.H. launch on a B6-4 and was picture perfect. To bad I forgot to take photos. Rocket streaked off the pad and was nearly lost in the clouds.
Recovery
Parachute was just past apogee and rocket made a nice safe decent down field a short ways with no damage.
Flight Rating: 5
Summary
This was another fun kit bash. I hope one day to build a clone if I can find the right NC or better yet find an original that I can afford just to have both in my fleet. I wish now that I had bought this one when it was available but this one was released during one of my drop-out times so I didn't notice it.
Overall Rating: 5